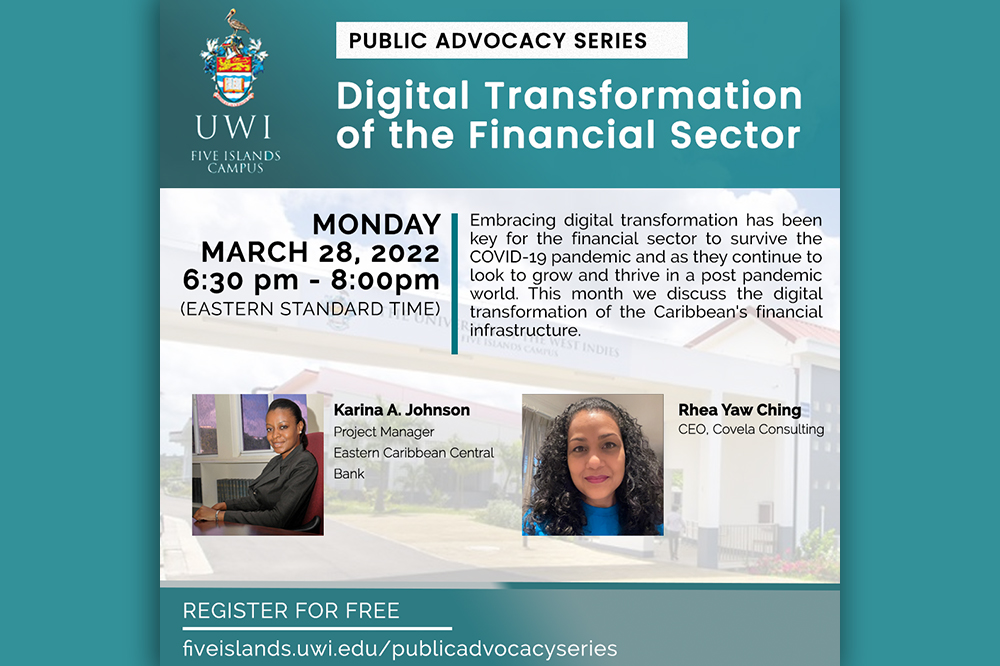 Press Release
March 25, 2022
The UWI Five Islands to delve into Digital Transformation
The University of the West Indies Five Islands Campus will this month continue its Public Advocacy Series looking at digital transformation. This month's topic is "Digital Transformation of the Financial Sector" and will feature two of the Caribbean's leading professionals working in this area.
The speakers at the Campus' Public Advocacy Series for March will be Karina Johnson, Project Manager for the Eastern Caribbean Central Bank (ECCB) and Rhea Yaw Ching, CEO of Covela Consulting.
Johnson is the Project Manager for the ECCBs digital currency DCash pilot. She is an attorney-at-law and among her areas of interest are Central Bank-backed Digital Currencies, technology-enabled financial services and regional economic integration.
Yaw Ching is the chief executive officer of Covela Consulting, a strategy and innovation consulting firm serving private and public sector organisations with an emphasis on strategy development, digital transformation and policy and regulatory harmonization.  She is also the founder and executive director of Covela Foundation.
With the integration of technology, digital transformation in the financial sector is an important part of the strategy for financial institutions around the world. A recent survey conducted by global professional services organisation, EY has shown that while a majority of finance leaders have started the implementation of technology, a minority have gotten to an advanced stage. For the Caribbean to compete globally, it will need to have the necessary tools in place as part of a wider strategy. The March edition of the Public Advocacy Series will look at where the Caribbean is and how, as a country and region, digital transformation of the financial sector will benefit us.
The virtual event takes place on Monday, March 28, 2022, from 6:30 p.m.-8:00 p.m. (Eastern Caribbean time). Participants will be able to pose questions directly to each of the panellists during the discussion segment. Free registration can be done online at fiveislands.uwi.edu/publicadvocacyseries.