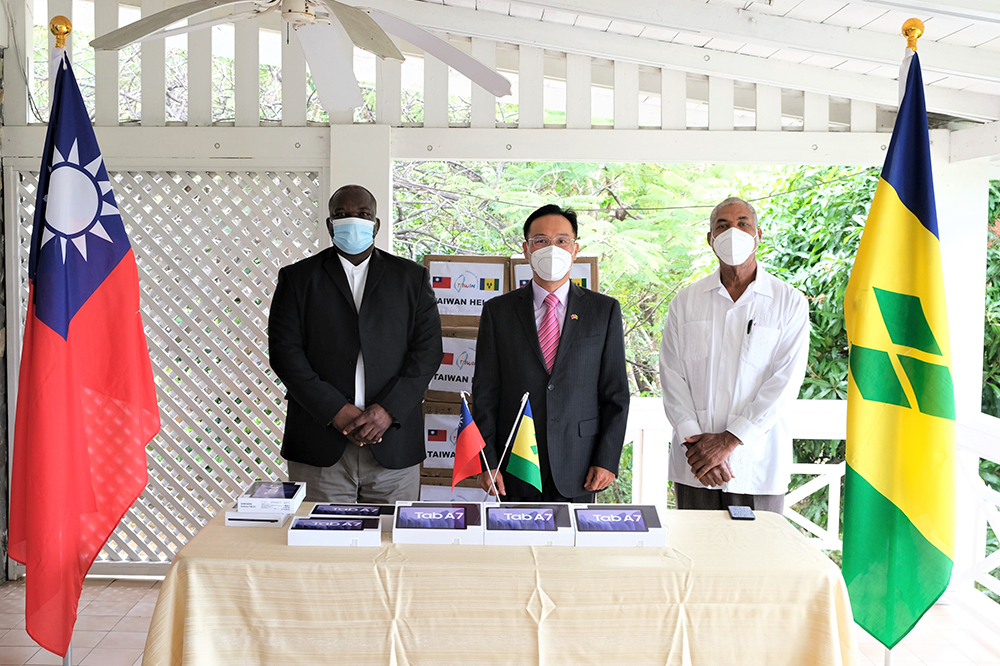 Press Release
March 1, 2022
Taiwanese company donates 150 tablets to Gov't of SVG
Ambassador Peter Sha-Li LAN of the Republic of China (Taiwan) handed over 150 sets of tablets to the government of St Vincent and the Grenadines (SVG) last Friday, February 25 2022.
Deputy Prime Minister and Minister of Transport and Works, Montgomery Daniel and Education minister, Curtis King were at the ceremony on behalf of the Government of SVG to receive the tablets which were sponsored by the Taiwan SHEICO company, a release states.
Ambassador Lan praised the joint effort of the SVG Ambassador to Taiwan, Andrea Bowman, and the Taiwan SHEICO company who sponsored the donation in response to both the COVID-19 pandemic and La Soufriere volcanic eruptions. This donation is particularly meaningful because it is in accordance with the policy direction set by OECS Education Ministers meeting, and is also essential to Vincentian students who have had difficulty accessing online learning resources.
The Deputy prime minister expressed sincere gratitude to the friendship from Taiwan, and pointed out that the donation from SHEICO company shows that the Taiwanese people stand with the people of SVG when facing natural disasters. Daniel said the 150 tablets will equip those students who are in great need regarding their on-line studies.
He also expressed sincere appreciation to the Government of Taiwan for its assistance on this matter.
Minister King also expressing gratitude to Taiwan SHEICO company, said he appreciates the continuous support from the government of Taiwan in the field of education in SVG, including the provision of bursaries and scholarships to primary and secondary school students which allow them to purchase school supplies.
The government of Taiwan also provides scholarships for young Vinentians to pursue higher education so they can contribute to the development of the country. King therefore called for Vincentians who qualify to apply for these scholarships before the end of March this year.
Taiwan and SVG established diplomatic relations over 40 years ago during which time more than 200 Vincentian Taiwan scholarship recipients have travelled and studied in Taiwan, and more than 11,000 local students from disadvantaged families were awarded with bursaries and scholarships. The government of Taiwan has also carried out several projects to improve the infrastructure and maintenance of schools in SVG.