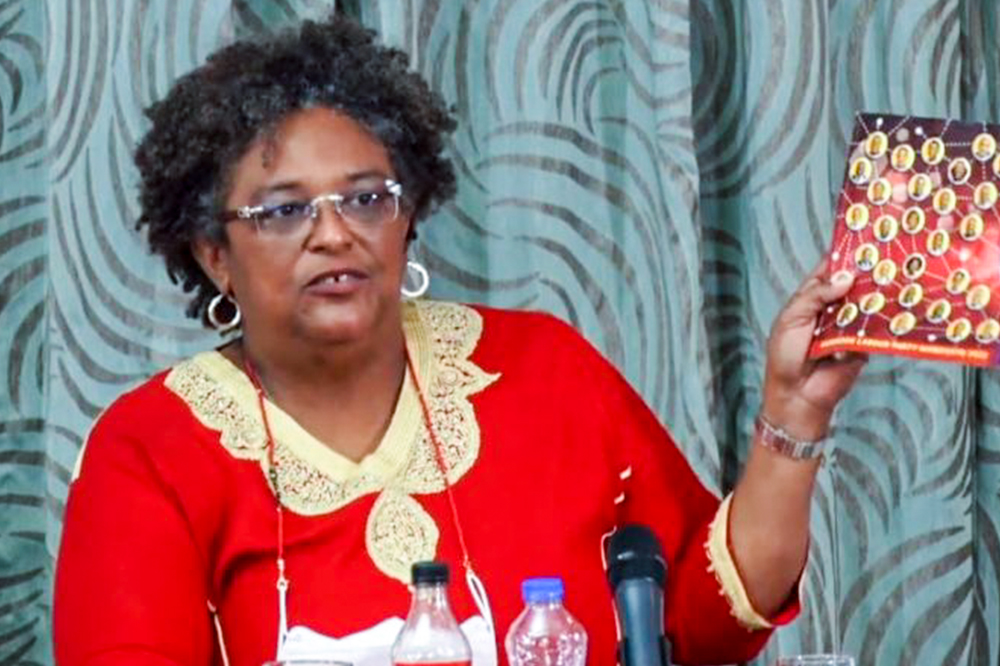 Press Release
January 11, 2022
BLP promises 'housing revolution' as it launches 2022 manifesto
Nurses, teachers and police officers will be among those benefiting from a transformation in home ownership under a newly elected Barbados Labour Party (BLP) Administration.
This was the pledge of Prime Minister Mia Mottley, who said that if her party retains government at the upcoming January 19 General Election, she will commence with what she described as a "housing revolution" beginning with the construction of 10,000 houses in five years. Her comments were made on Saturday during the roll-out of the BLP's 2022 election manifesto at the Island Inn Hotel, Aquatic Gap, Bay Street.
According to Mottley, this revolution, which she noted had already begun with the launch of the Home Ownership Providing Energy (HOPE) programme in 2021, will also consist of access to land at affordable prices, access to containing the cost of developing the land and creating opportunities for people who would not otherwise qualify, to get a mortgage by way of utilizing renewable energy to trigger economic growth.
This is on top of Mottley's pledge that under a new BLP Government, instead of having the first $175,000 exempted from land tax, they will carry that exemption to $400,000.
"We have already announced that we intervened into the market to be able to cap the price of land. When persons with large development have come to me as Minister of Planning, we have said to them, through the Town Planning Department, 'we want a planning obligation'. That we want you to agree that in exchange for us to give you planning to do X, Y or Z, you have to be able to put land back into a pool … so that Barbadians can benefit – particularly those who live in densely populated housing estates … and who have been ignored. And if we are going to get to the bottom of solving social problems in this country you cannot have three and four generations living in a house that was designed for no more than two generations.
"And therefore, this government is leveraging its position to be able to put at the disposal of the country, particularly the most vulnerable, lands that we can therefore cap at $12.50 a square foot, separate from what we do in the Urban Tenantries Programme at $2.50 … And I look particularly at self-employed people, whose income may be volatile, variable … and they need the stability of that revenue from the roof from a power purchase agreement with Light & Power to be able to qualify for the mortgage going forward. That is how we are going to get 10,000 houses built in short order in this country. And I am happy that the process has started and that from this year we will go full throttle in order to get it done," she said.
The BLP manifesto dubbed "Our Barbados: Owning our Future" has two covers with one end outlining plans to further develop and transform the island and the other, highlighting promises kept over the party's three years at the helm.
Mottley's pledge to transform housing in Barbados is in keeping with the value of "Bajan Ownership Matters", which is listed among the five core values for transformation outlined. The other values are people-centred leadership matters; government must deliver for all; pride and industry through active citizenship and innovation driven opportunity. Fundamental policy frameworks were also highlighted in social, economic and governance and accountability policies. They also highlighted transforming food and security, the sugar industry, manufacturing, tourism, financial service and trade and export (Barbados Today).