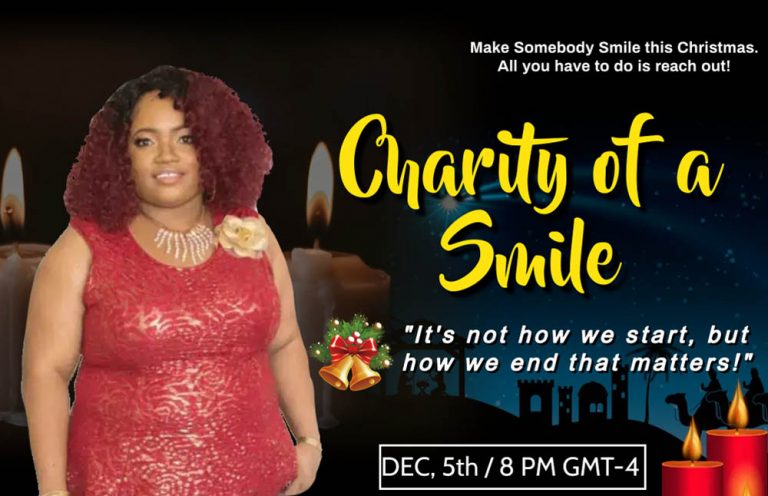 Press Release
December 5, 2021
Caywama launches Charity of Smile Music Video
Kingstown, St. Vincent, Saturday, December 4, 2021 — "Due to all that we have been experiencing this year; namely the eruption of La Soufriere, and Covid-19 and all that goes along with it, we cannot allow these negatives to steal all that is good and to be grateful for – including Christmas", urges Caywama Edwards–Cottle. Hence, she has taken the time to persuade us to be 'an angel' in these trying times in her official music video for December 2021 entitled 'Charity of a Smile'.
On Sunday, December 5 at 8 PM, Caywama drops the anticipated Christmas Music Video for her single 'Charity of a Smile" on YouTube and JSRtv by JSR Communications. The single was initially released on December 6, 2017.
Caywama informed JSR Communications then on the An Exclusive television program that "Although Christmas is the most wonderful time of year for her and many others, for some people, it can be a nightmare – especially this year." Therefore, she encourages us to be a 'ray of hope' this season. She philosophized, "We, on the other hand, can turn frowns upside down. History has shown what can happen when people, in a unified manner, do something – whether good or bad – so if we as a people are determined to do good this season, we can and we will, and history will thank us for it. The actions don't even have to be 'ginormous'; we can begin simply with the Charity (gift) of a Smile (or a hug – virtually, of course) and work our way up! What we may deem as unimportant may just be what someone requires to enjoy the season!"
In 2016, the Vincentian Gospel Artiste produced her debut music video for her first Christmas single, 'Christ Child'. This was filmed at two historic sites in St. Vincent and the Grenadines: Fort Charlotte, which is perched 600ft above the capital city of Kingstown, with a panoramic view of the Grenadines, and the Kingstown Methodist Church, which was purchased by missionaries and built by a congregation of slaves. Caywama is also known for her WAR medley performance at Dance for Jesus in 2017 and appearances at Arise SVG – All Local Gospel charity concert by JSR Communications in 2017, SVG Gospel Fest, the Nine Mornings Festival – among other local stages.
"The saying goes, "It's not how we start, but how we end that matters!" So, let's end 2021 with what matters: gifting joy and love to those around us!" Caywama appeals.
Caywama wishes to thank Andrez Bascombe of Epsilon Music Studio (set), Rochel Hope of Divine Events (set design), Laurette Pierre of Lori (makeup), and Carlotta Edwards for aiding in bringing this musical dream to fruition.
To watch the music video or catch the premiere, visit:
YouTube: https://youtu.be/85DQrEh35O8
JSRtv: https://jsrsvg.com/jsrtv
To connect with Caywama online, visit:
Facebook: https://www.facebook.com/caywamaedwardsministry
Instagram: https://www.instagram.com/caywama_ministry
Official website:  http://caywamaedwardsministry.com/