Posted on
WPP donates medical supplies to MCMH; will host road trips for psycho-social support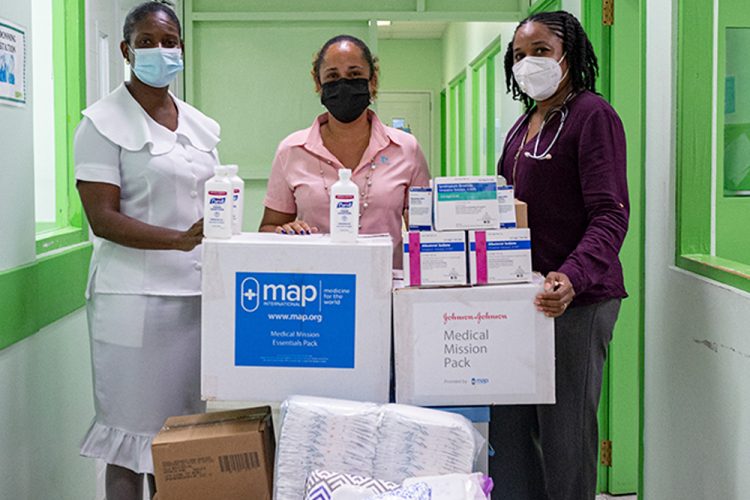 The Paediatric Ward at the Milton Cato Memorial Hospital has received a donation of medical supplies to be used in its Paediatric Ward.
The supplies were handed over by the World Paediatric Project(WPP), on November 25 in a brief ceremony at the Maternity B Ward, the temporary location for the Paediatric Ward, a release from WPP states.
The items were received by Paediatric Neurologist Dr. Mishka Duncan-Adams and Departmental Manager Sr. Samuel. WPP Executive Director for the Eastern Caribbean, Lauren McIntosh presented the items to the paediatric health team.
 WPP will be offering psycho-social support to families in St Vincent and the Grenadines (SVG) due to the far-reaching and continuous impact on the population's mental state following the explosive eruption of La Soufriere volcano, the release added. It also said the WPP is continuing with phase two of a psycho-social support drive they began earlier this year, aimed at helping persons to cope with some of the many challenges associated with the traumatic occurrence. As a result, WPP will host healthy lifestyle road trips under the theme: Positive Vibes! Positive Mind! Positive Life! On Saturday, December 4, at the Sandy Bay Government for communities on the Windward side of the island, and on Saturday, December 11 at the Troumaca Ontario Secondary School for communities in North Leeward. The healthy lifestyle road trip aims to equip persons, particularly parents, with the requisite tools to better cope with stress, parenting, and mental health-related issues.
 The WPP Eastern Caribbean director said the organisation decided to branch off temporarily as they realised the importance of mental health and well-being in addition to self-care. She further stated that, "in addition to our focus on providing critical paediatric care to children, we take great pride in assisting our families in time of crises, opportunities afforded to us through strategic partnerships."
WPP is able to extend the range of its scope to assist families in this way due to funding from Americares, an organisation that provides disaster relief and medication to countries worldwide. Both Americares and WPP realised the need for their intervention following the volcanic eruptions and were keen to join efforts on this particular initiative, the release concludes.