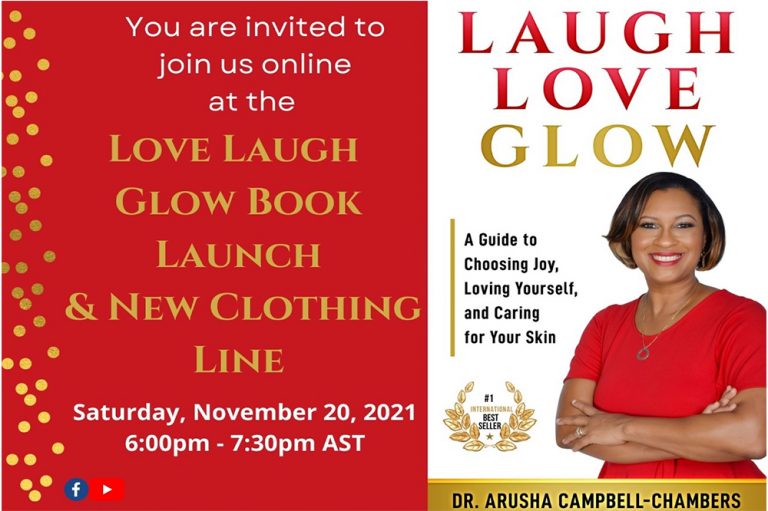 Press Release
November 16, 2021
Dr. Arusha Chambers to hold book-signing ceremony in SVG
ST VINCENT-born Dr. Arusha Campbell-Chambers will be engaged in a signing ceremony of her first book: LAUGH LOVE GLOW, at KMK Innovations Inc. at The Joshua Centre, Arnos Vale.
According to a release, the book signing will take place on Saturday November 20, from 3:30p.m to 5:30p.m and preregistration for the event may be done on her Facebook page //youtu.be/ iy2yVsEo3G4.
LAUGH LOVE GLOW became an International bestselling book on Amazon on Friday September 24, 2021, in the categories of Happiness, Women's Spirituality and Spiritual Gifts.
LAUGH LOVE GLOW: A Guide to Choosing Joy, Loving Yourself and Caring for your Skin will equip you to:
• Go through life's situations while choosing joy
• Love yourself, no matter where you are in life
• Know the secrets to have glowing skin She was led to write this book while grieving the loss of her father, Parnel Campbell CVO, QC, the release states. The book inspires readers to laugh joyfully, love completely and glow radiantly.
Additionally, there is the LAUGH LOVE GLOW clothing line designed by Dr. Arusha Campbell-Chambers and Kimsha Williams, of KMK Fashion. They look forward to unveiling the collection, which will be available for orders soon.