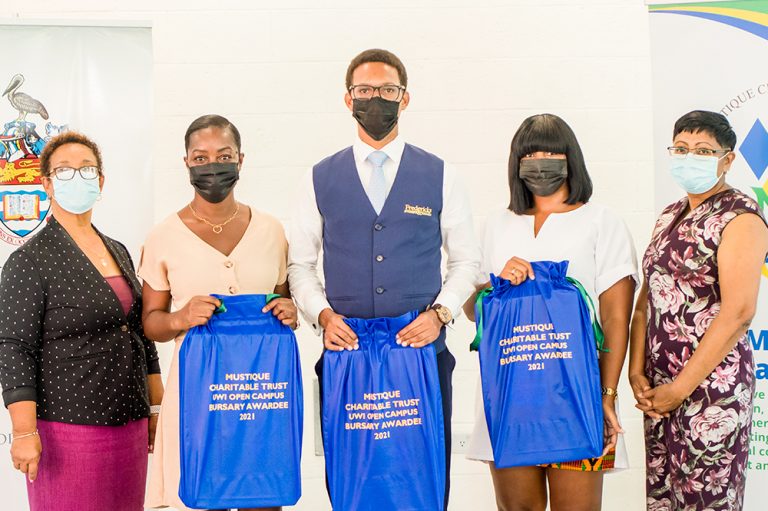 Press Release
November 9, 2021
Mustique Charitable Trust awards three bursaries for UWI studies
The Mustique Charitable Trust has awarded three bursaries to persons to pursue tertiary level studies at the Open Campus of The University of The West Indies (UWI) for 2021-2022.
The Trust said in a release that the bursaries were awarded to: Jozel Lewis Bachelor of Science, Banking & Finance (Special); Kerlisa DaSilva, Bachelor of Science: Psychology and Tevin Bynoe Bachelor of Science, Accounting.
The Mustique Charitable Trust initiated its Bursary Award Programme at the University of the West Indies Open Campus (St.Vincent) in February 2010. Since then, 38 bursaries have been awarded, with 22 students successfully acquiring their respective degrees.
Adhering to the COVID-19 restrictions and protocols, a small handover ceremony was held at UWI Open Campus conference room where this year's recipients received their laptops Dularie Malcolm (Mustique Charitable Trust Administration Director), thanked The UWI Open Campus for their administration of the Bursary Programme and commended the mentorship support programme available to the bursary recipients if and when they face challenges.
Deborah Dalrymple, UWI Open Campus Head of Site, thanked the Mustique Charitable Trust and highlighted that this programme awards
the most substantial bursaries at the UWI Open Campus, since it provides each recipient with 60% of their academic fees, along with a laptop.