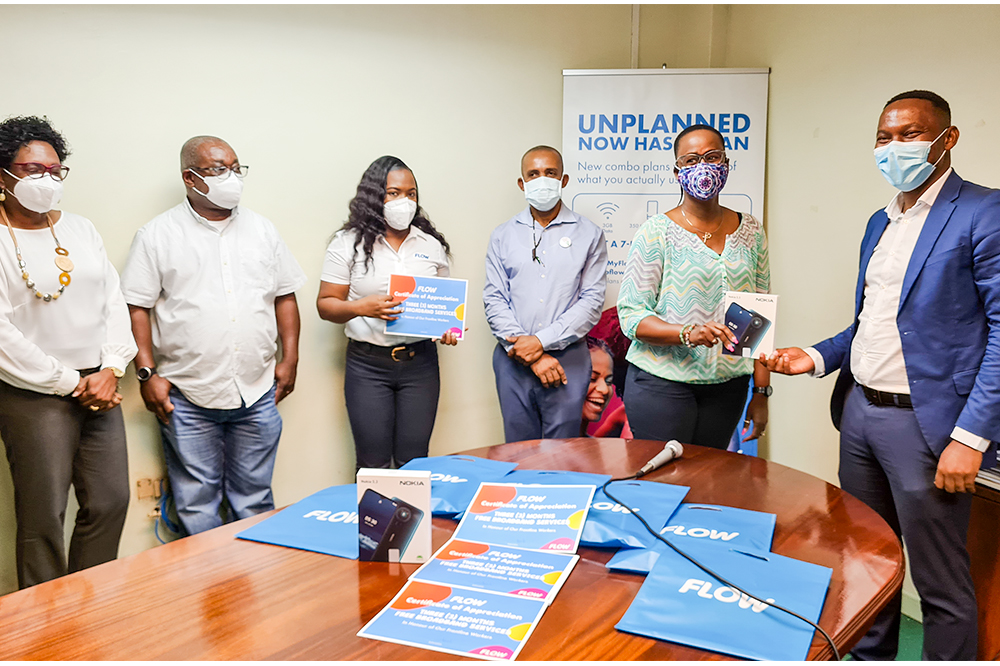 Press Release
November 5, 2021
Flow rewards hard work of COVID-19 task force
Members of the COVID-19 taskforce have received a gift from telecommunications provider Flow. Country Manager Wayne Hull, handed over 25 vouchers with three months free broadband service and six Nokia 5.3 smartphones to the COVID-19 taskforce on October 26, states a release from the company.
The brief ceremony was done at the offices of the Ministry of Health (MOH), and was attended by the Ministry's Permanent Secretary Cuthbert Knights, Chief Medical Officer Dr Simone Keizer-Beache, and Medical Officer of Health Dr Roger Duncan.
In his brief address Hull said , "We (Flow) are celebrating our customer appreciation week and embedded in our appreciation is the recognizing of our frontline staff who have been working tirelessly for over a year."
Hull added, "We at Flow felt it very important in recognizing the core taskforce that has been leading the charge in helping us as a country recover from this pandemic."
He said he believed the donations will be impactful and thanked health officials along with their respective teams for the work they continue to do.
Permanent Secretary Knights in his response expressed thanks to Flow for recognising the hard work done by the Taskforce.
" I can assure that the handsets will go a very long way in assisting the members in their communication needs," Knights added, as he acknowledged that the work the Covid taskforce is quite challenging, and the vision that Flow had to recognize them shows that the fight against COVID-19 is not the sole responsibility of the government.
Flow's customer appreciation week consisted of several other initiatives, including discounted services to longstanding customers, a "Lunch on Us" day, frontline workers discounts and a personal thank you to in-store customers from the Country Manager.