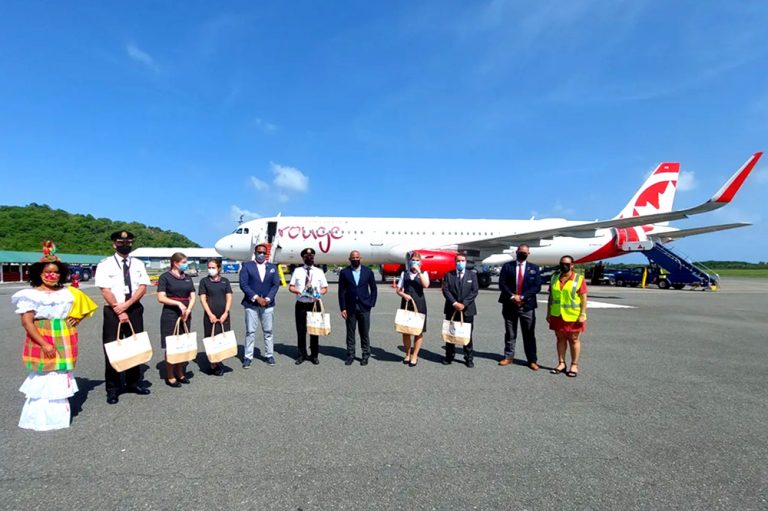 Press Release
October 12, 2021
St Lucia celebrates the reopening of the Canadian Market
TO COMMEMORATE the reopening of the Canadian market, the St Lucia Tourism Authority (SLTA), along with tourism stakeholders were on hand at Hewanorra International Airport to welcome Air Canada Rouge flight (1878) on Sunday, October 3. The return of Air Canada signals the reopening of St Lucia's fourth largest international source market, a release from the SLTA states.
Air Canada discontinued its winter service to St Lucia in January 2021 during the third wave of the COVID-19 pandemic. The first flight to St Lucia returned after nine months, following the Canadian Government's cancellation of all flights to Mexico and the Caribbean in February 2021.
The welcome delegation was led by Tourism Minister Dr. Ernest Hilaire, and included members from the SLTA, the St Lucia Air and Sea Ports Authority, and the island's Hospitality and Tourism Association The flight carried a combined total of 148 returning nationals and visitors to the island.
Air Canada will fly a non-stop service from Toronto to St Lucia oncea- week every Sunday, then increasing frequency to two weekly flights Friday and Sunday from October 31. The winter schedule will include four weekly flights.
In 2019, St Lucia registered more than 40,000 arrivals from Canada.