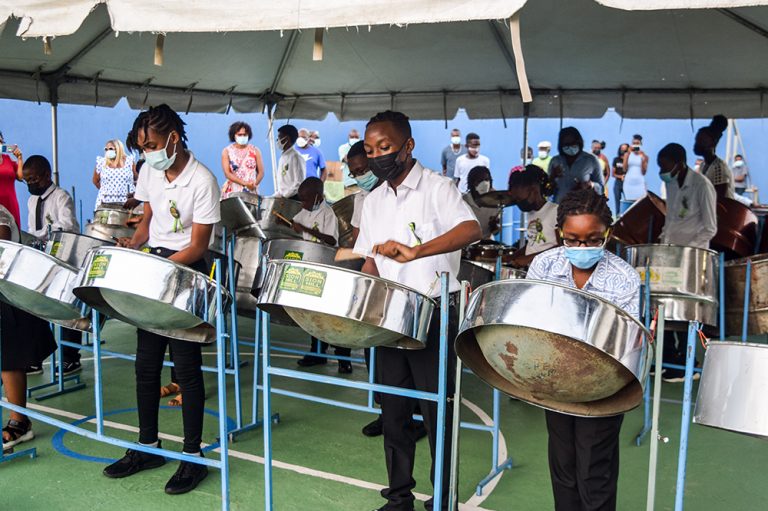 Press Release
October 8, 2021
Sion Hill Euphonium trains 36 more young pannists
Another 36 youngsters between 8 and 16 years of age have, within the last six weeks trained in the fundamentals of playing the various steelpan instruments.
This newest group of pannists graduated last Sunday afternoon from the annual summer training programme organised by the 40 year old Sion Hill Euphonium Steel Orchestra (SHESO).
The ceremony was held at the Sion Hill village hard court, a release from the steel orchestra said.
It was a training programme that was different from the previous years, as the ongoing COVID-19 pandemic resulted in several health protocols being observed.
The restrictions also required the training programme to be restricted and with the cohort of players divided into two groups.
However, despite the challenges, administrative director of the Mustique Charitable Trust- Dularie Malcolm praised the efforts and resilience of SHESO's executive for ensuring that the training programme for 2021 came to fruition.
Malcolm also called on the young pannists to make good their newly developing talents.
"I hope that those of you who now realise that it is something you have a passion for, you will use it to build the Sion Hill Euphonium Steel Orchestra", Malcolm implored.
Apart from Malcolm, Chair of SHESO Inc. Warren Knights and Parliamentary Representative for East Kingstown Fitzgerald Bramble, addressed the ceremony.
The graduates treated the small audience at the graduation to a demonstration of their talent on pan making proud their tutors:
Mikalla Knights, Septimus Caine, Tillal Webb and Christopher Waldron as they displayed great skill and timing.
Class one rendered four songs, while class two did three, much to the appreciation of the audience.
Following the renditions, the graduates were presented with their certificates.
The 2021 training programme, was the twenty-sixth edition put on by SHESO Inc.