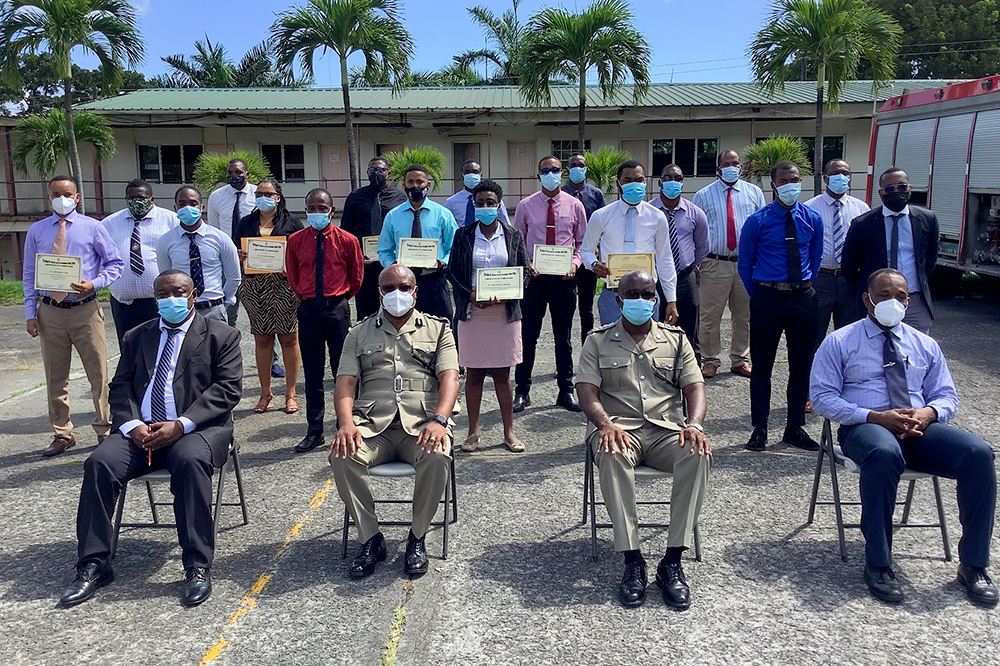 Press Release
September 24, 2021
Police officers receive training in fingerprinting
On Wednesday, September 22, 2021, a group of 18 police officers successfully graduated from the Crime Scene Search, Recovery, and Classification of Fingerprint Evidence training course at the Old Montrose Police Training School.
The training course began on Monday, September 13, and was co-ordinated by station sergeant Brian Archibald, head of the Criminal Records Office (CRO) in the Royal St. Vincent and the Grenadines Police Force (RSVGPF), a release from the organisation states
.
The course instructors were fingerprint experts Franklyn Williams retired police Inspector, and O'Neil Henry, retired sergeant of police.
Station sergeant Archibald said the course was very successful achieving a 100% pass rate among those who participated. He recalled feeling re-energized and experiencig a sense of excitement about what it meant to be a police officer when the Commissioner of Police approved the training.
The training course aimed to better prepare officers throughout the RSVGPF to become Crime Scene Officers in search and recovery of fingerprints on crime scenes. Among the 12 core topics covered were: laws relating to finger prints; the theory of powdering lifting, continuity and security; and fingerprinting potography.
Course co-ordinator Henry said that he was happy and proud to utilize the service of two local fingerprints experts in the retired police officers.
Delivering the keynote address, Commissioner of Police Colin John congratulated the participants for completing the training and thanked the course co-ordinator and instructors for their effective delivery of the training modules; and for giving their time to impart knowledge to the participants.
The Commissioner told the officers:"the world is changing and we have to adapt to these changes. The criminals are finding innovative ways to conduct their nefarious practices, and as police officers, we have to ensure that we are equipped to successfully counteract their activities."
He pointed out that fingerprinting is an 'old art' – one that is tried and tested ; that forensics is current science and is an area that presents several opportunities for police officers.