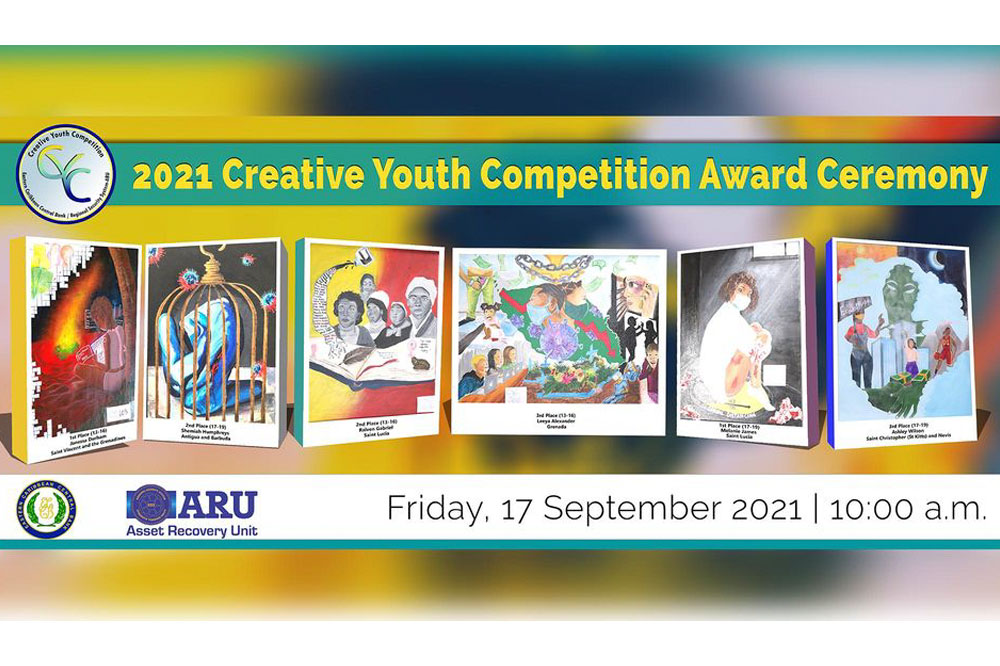 Press Release
September 17, 2021
GHS student to speak at ECCB/ RSS-ARU virtual ceremony for Art Competition Winners
The Eastern Caribbean Central Bank (ECCB) and the Regional Security System-Asset Recovery Unit (RSS-ARU) will recognise the winners of the 2021 ECCB/RSS-ARU Creative Youth Competition at a virtual ceremony today September 17.
During the ceremony, the first place winner in the age 13 – 16 category, Janessa Durham of the St Vincent Girls High School will speak on her piece on the topic: Evolution of Payment Methods: How Will the Use of Money Transform in the Future. Melanie James of the Sir Arthur Lewis Community College in St Lucia, first place winner of the 17-19 category, will address her piece on the topic: The Rise of Domestic and Social Ills in the Face of COVID- 19.
The head judges, Collette Jones-Chin of Anguilla and Eddison Liburd of Antigua and Barbuda, will share their overall perspectives on the 96 entries which the 31 students submitted for the competition.
Governor of the ECCB, Timothy N J Antoine will also address the students, their mentor teachers and school principals who will attend the event.
The ECCB/RSS-ARU Creative Youth Competition, is part of the ECCB's Community Outreach Programme and is aimed at encouraging critical and innovative thinking and raising the awareness of secondary school and community college students in the ECCU on issues of economic and social development.
The winning pieces can be viewed on the ECCB website and its Facebook page.