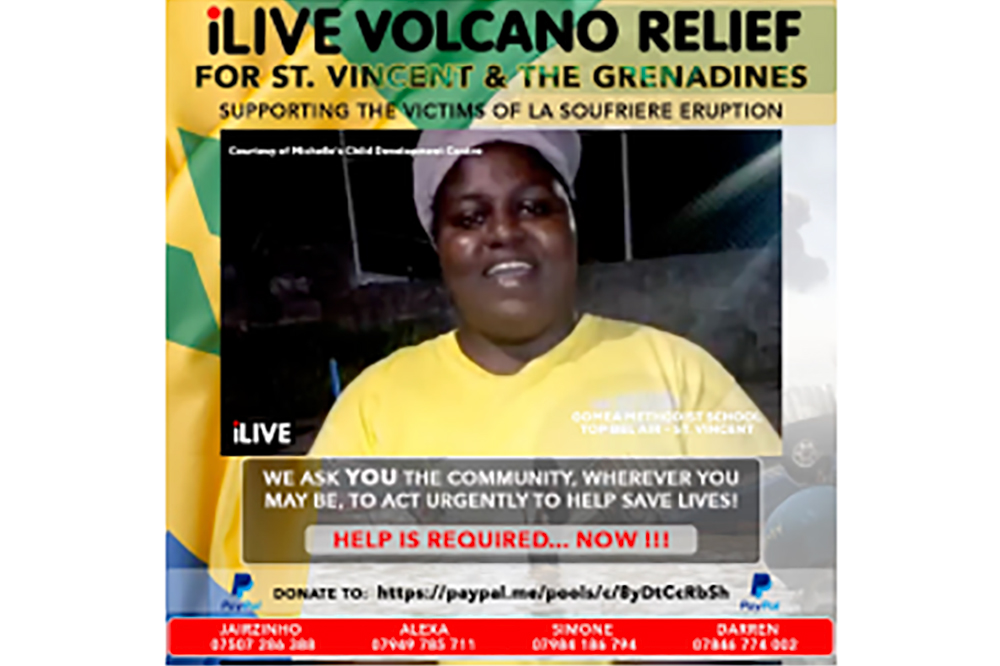 Press Release
August 24, 2021
iLIVE Radio Network sends relief to SVG
The iLive Radio Network which spans three continents has come together to provide assistance to St Vincent and the Grenadines (SVG) in the wake of the eruptions of La Soufriere volcano. iLive Radio UK, Canada & Caribbean pulled together and publicly launched their iLive Volcano Relief Appeal, a release states.
With donations sent in from local individuals and businesses to iLive's Network of radio stations and being delivered to various shipping agents in both Canada and Trinidad, iLive UK called upon Alban Hippolyte (A Hipps Shipping Service Ltd) in the UK to send barrels of aid to St. Vincent in order to help the victims in their phase one operation. Items such as clothing, non perishable foods, baby products and sanitary products were collected and dispatched. With help from the iLive on the ground team in Rillan Hill, SVG – Karissa Samuel, Phylicia Frederick, Jocelyn Collis and Nathaniel Frederick quickly and effectively ensured the aid received reached those most vulnerable in the eruptions. Early in June, phase two of iLive's operation in helping the displaced victims of La Soufriere eruption saw iLive UK collaborate with Alexa Albert who had already been helping Michelle's Child Development Centre (MCDC) in St. Vincent. Another appeal for help was broadcast from iLive Radio UK and footage courtesy of MCDC was posted all over social media of Vincentians in need of worldwide help to support those who had not been able to get themselves back up and running after the volcano had somewhat simmered down. The aftermath of the eruption caused many mudflows which resulted in the loss of homes, businesses and the ash fall from the volcano covered the entire island, which meant farmers had lost all their valuable crops. iLive sent another set of barrels with necessary aid to St. Vincent and the Grenadines and again the on the ground team lead by Cuthbert James (Peace Corps) jumped into action, getting the aid to those who still and urgently required support. Phase three of iLive's operation to help the people of SVG was to take things onto a bigger stage as news of the after effects of La Soufriere slowly disappeared from the media and yet, thousands of people are still going without.
iLive UK decided to host a fundraiser event in collaboration with Alexa Albert which would spread knowledge and awareness of this disaster to generate more help from locals, nationals and internationals. The iLive Volcano Relief Fundraiser and Awareness Event held on Wednesday 18th August saw local artists and musicians give up their time freely to perform to an audience at London's venue 'The Night Owl' and also stream worldwide via iLive UK's Twitch platform. Local artist Kule T formerly of 90's boy band MN8, Reme, Mandee Singer, Dionne Reid, Junior Dangerous, Damel Carayol and Tony Douglas backed by pianist Zoe Alexandria, drummer Colin (Drummix) and guitarist Rick Leon James all came together, delivering spectacular performances. Vibrant and energetic musical interludes was supplied by award winning UK DJ's Mixmaster Jay, Shaq D and Dukez UK whilst keeping focus on the overall message. Legendary and global artists Omar Lyefook (MBE) and Leee John of Imagination both contributed to the cause by sending an exclusively recorded video performance in support of the victims of La Soufriere eruption. VOLCANO RELIEF A live video link to St. Vincent was made, where Cuthbert James was in conversation with Jairzinho Morris (Director of iLive UK). James gave a detailed report of the ongoing situation in SVG and what we as a community could do in support of the victims and what aid would be needed going forward. He humbly extended thanks and gratitude on behalf of St.Vincent and the Grenadines for all the support and love and to those who have continuously helped the island get back on its feet. Donations raised at the iLive Volcano Relief was £250 which will go towards helping support families in St. Vincent and the Grenadines. Donations can still be made via PayPal https:// paypal.me/pools/c/8yDtCcRbSh iLive.
Global Network would like to thank: Mentos Flowers & Coffee – My Sauce (Thomas Kondiments Ltd) – Aquarius Hair – Aquarius Beauty LDN – Party Creationz – New Beacon Books – Camii Punch – Shea Love London – Roti Joupa (Finsbury Park) for all their donations to the cause and thank all the supporters and individuals who donated to this worthy cause.