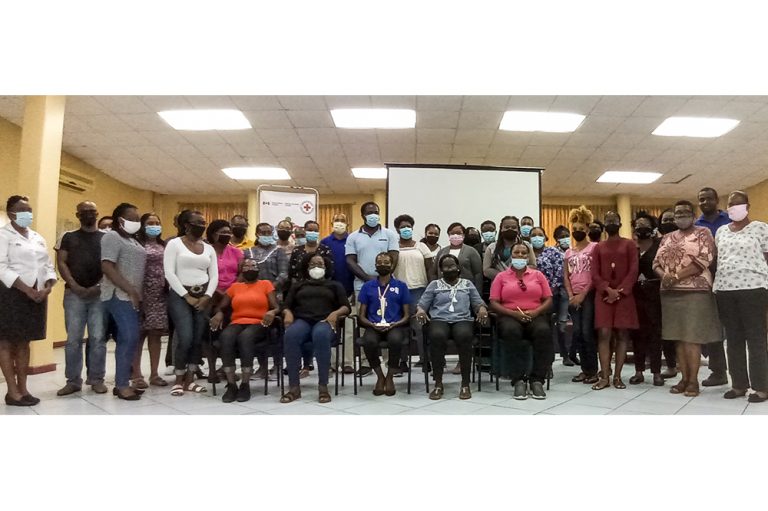 Press Release
August 13, 2021
SVG Red Cross wraps up community resilience training
SOME 241 PERSONS last week Thursday August 5, completed a series of training conducted over four months under the Community Resilience Building Project (CRB), undertaken by the St Vincent and the Grenadines Red Cross Society (SVGRCS).
The organisation said in a release that this was the last batch of volunteers to have been engaged in its community resilience training that is being conducted to help strengthen the family structure in the event of an emergency.
Participants were exposed to the project's priority themes which include Child Protection in Emergencies; Protection and Gender Inclusion in Emergencies; Sexual Exploitation and Abuse; Psychosocial Support; and Psychosocial First Aid.
The participants were drawn from various community groups, including the Buccament Community Disaster Response Team, Faith- based organisations, as well as educators and counsellors.
The project was specially designed to build capacity in the communities of Magum/Overland, Paget Farm and Buccament; which are considered to be vulnerable and disaster prone communities.
According to Descima Hamilton project co-ordinator it is important to recognise how things have changed and how the Red Cross supports that change. She said the training is a tool to set the foundation to help navigate that change in a positive way.
The SVGRCS said participants expressed gratitude for the opportunity to benefi t from the new information and have pledged to work closely with the relevant authorities to assist in building resilience in their respective communities.
The Gender Affairs Division and the Child Protection Division within the Ministry of National Mobilisation; the Anti-traffi cking Unit and Sexual Exploitation and Abuse Unit of the Royal St. Vincent and the Grenadines Police force assisted the Red Cross in the delivery of the training which was funded by Global Affairs Canada, under the auspices of the Canadian Red Cross.
Belize and Suriname are also beneficiaries of this programme.