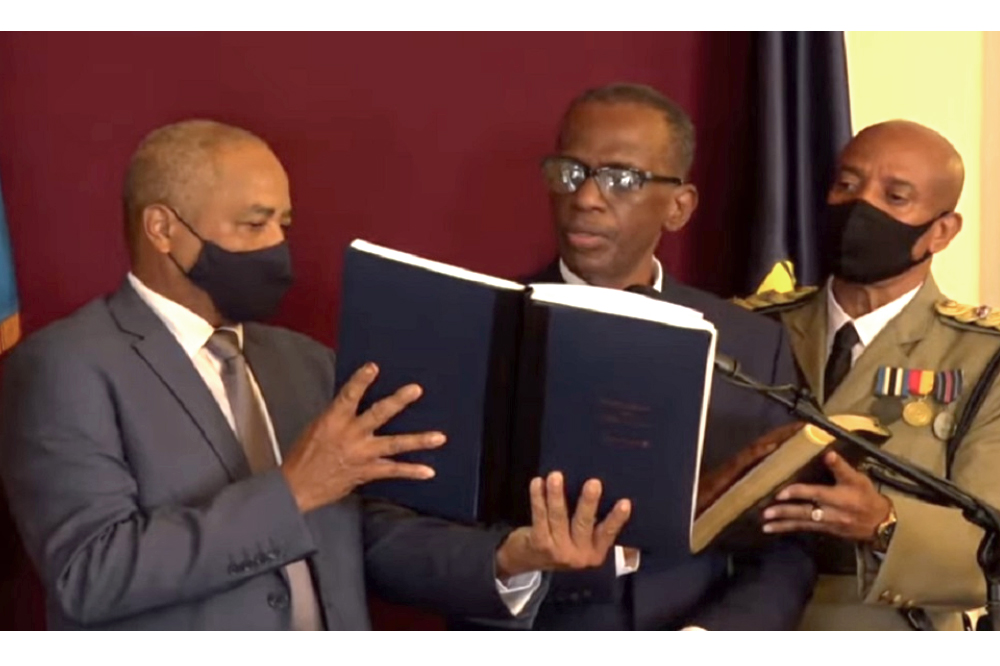 Press Release
July 30, 2021
Prime Minister Pierre sworn in: 'St Lucia, I will not fail you'
by Jonathan Stuart
Philip J Pierre has officially been sworn in as Prime Minister of Saint Lucia.
In his first address as Prime Minster, Pierre said, "St Lucia, we cannot fail. I will not fail you. I thank you for the opportunity to serve. I won't do it alone. I will seek the counsel of the wise and if you stand firm with me, together, we shall not fail."
Pierre was sworn in by Governor-General Sir Emmanuel Neville Cenac with Cabinet Secretary Benjamin Emmanuel assisting with the procedure.
The swearing-in was preceded by the national anthem and a prayer and was followed by a rendition of 'Anoint Me Lord'.
Pierre said that despite always being underestimated and at times ridiculed for being a stutterer, he always knew he would rise with the help of God, and with dedication and hard work, to be able to serve his people with love and humility.
Pierre became emotional when thanking his family, pausing to compose himself before thanking former Prime Minister Dr Kenny Anthony and all those [who] believed in him and encouraged him even when it seemed he would never make it.
[Pierre's St Lucia Labour Party won 13 of the 17 seats at stake in the July 26 General Elections}
Pierre was thankful that the majority of voters saw that "the country needed to be rescued from the abyss it was plunged in."
"The majority of you accepted my offer to lead that rescue mission, though I offered to do so with a team of fifteen men and women representing an excellent blend of experience and youthful energy, the full rescue team also includes you, the people," said Pierre.
Pierre promised to be prime minister not for some of the people but for all of the people, perhaps a rejoinder to the infamous 'Belrose doctrine'.
"I ask for your patience in the coming weeks and months as we try to assess the state of the country's financing and capacity to deliver as early as possible the commitment made to the people of St Lucia," said the new leader. (Loop news)