Posted on
Raychard stings in the GECCU spelling bee competition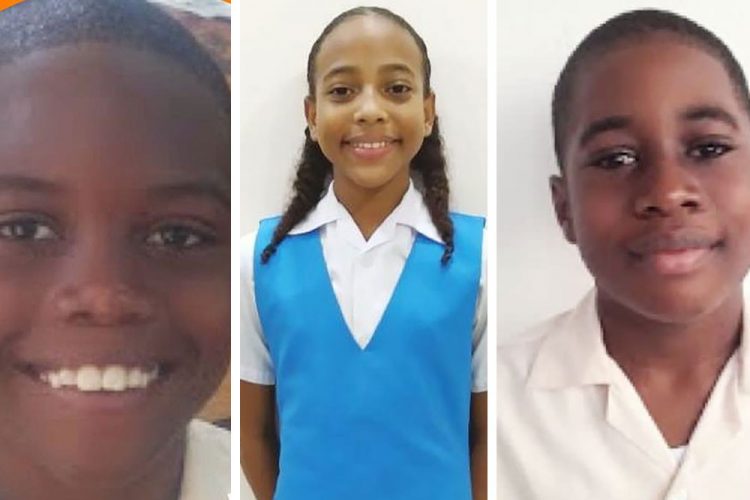 RAYCHARD ARRINDELL from the Kingstown Anglican School emerged winner in the inaugural Ladder Foundation SVG GECCU Spelling Bee Competition held on Wednesday July 14, 2021.
Citron Williams, representing the Biabou Methodist School came in second; in third place was Azaria Kenya Lewis of the St Mary's Catholic School; Chayah Charles representing the Mustique Primary School placed fourth and Jhamari Henry of the Lowmans Leeward Anglican School placed fifth.
These students were among others drawn from 22 primary schools across St Vincent and the Grenadines (SVG) who participated in the competition that was conducted in three rounds: The Maureen Kennedy preliminary round, the Arlette Miller semi-final round, and the René Baptiste final round.
From the 22 participating schools in the Maureen Kennedy preliminary round of competition, 10 students advanced to the Arlette Miller semi-final round: 1. Macey Jackson Barrouallie Government School 2. Citron Williams Biabou Methodist School 3. Talyah Diamond Clare Valley Primary School 4. Terecia Ross – Gomea Methodist School 5. Raychad Arrindell – Kingstown Anglican School 6. Jadon Fraser Kingstown Preparatory School 7. Jhamari Henry Lowmans Leeward Anglican School 8. Chayah Charles Mustique Primary School 9. Azaria Kenya Lewis – St. Mary's Roman Catholic School 10. Micah Jack – Windsor Primary School.
Immediately following the Arlette Miller semi-final round of competition, the top five students advanced to the René Baptiste final round.
All participants in the competition received tokens of support from the General Employees Co-operative Credit Union (GECCU) the sponsors, with the top 10 students receiving cash vouchers for the opening of Junior Savers accounts at GECCU. The top five students received trophies and the top three students received cash prizes totalling $1,000. In addition to the trophy, Arrindell, the first place participant received $500; Williams, who placed second got $300; and Lewis the third place participant got $200.
Commendations are extended to all students who participated in the competition.
The list of participants reads: 1. Kelondrel Gordon (No Show) Barrouallie Anglican School 2. Macey Jackson Barrouallie Government School 3. Zaronique John Belair Government School 4. Jomain Ollivierre Bequia SDA Primary School 5. Citron Williams Biabou Methodist School 6. Isabella Onaran Canouan Government School 7. Cle-Jay Akers Chateaubelair Methodist School 8. Talyah Diamond Clare Valley Primary School 9. Jaemyha Jack Colonaire Primary School 10. Mya Lavia Fancy Government School 11. Terecia Ross Gomea Methodist School 12. Raychad Arrindell Kingstown Anglican School 13. Jadon Fraser Kingstown Preparatory School 14. Davina Byron Langley Park Government School 15. Cairos Ferdinand Lodge Village Government School 16. Jhamari Henry Lowman's Leeward Anglican School 17. Chayah Charles Mustique Primary School 18. Kaniece Lewis Pamelus Burke Government School 19. Karma Payne Sandy Bay Government School 20. Azaria Kenya Lewis St. Mary's Roman Catholic School 21. Ketheisha Patterson Troumaca Government School 22. Micah Jack Windsor Primary School