Posted on
Private homes, public infrastructure sustain damage during passage of Hurricane Elsa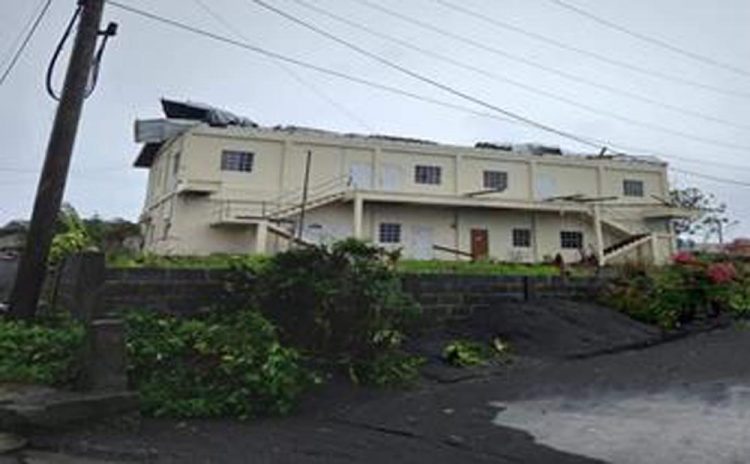 Almost 100 persons sought refuge today at 13 emergency shelters that were activated today, July 2 between mainland St Vincent and Bequia as this country experienced its first hurricane of the season – Hurricane Elsa.
Public infrastructure and private homes also sustained damage as a result of the weather system.
Prime Minister Dr Ralph Gonsalves declared yesterday that all non-essential businesses and schools be closed today as the country braced for impact.
At 8 am, Tropical Storm Elsa was upgraded to a hurricane just south of Barbados with maximum sustained winds of 75 mph.
The tropical storm warning for St Vincent and the Grenadines was immediately upgraded to a Hurricane warning and Elsa made landfall over the north of mainland St Vincent just before 11 am.
According to a situation report from the National Emergency Management Organisation (NEMO), a total of 43 homes have so far reported roof damage.
Eleven shelters were activated on mainland St Vincent and two on Bequia to accommodate the 98 persons that had to seek shelter.
The two shelters in Bequia have since been closed. The report also notes that 50 additional shelters between Barrouallie and Biabou are also currently housing over 2000 evacuees from La Soufriere's explosive eruption.
Many people experienced power outages today. There have been reports of down power lines and poles in different areas throughout the country.
Reports also reveal that three police stations have sustained damage. The Sandy Bay and Owia Police Stations both sustained damage to their roofs while the Georgetown Police Station lost several windows.
The Owia Government School was also damaged in the hurricane, along with one church and a bridge.
Hurricane Elsa moved over the Caribbean Sea and at 2 pm, SVG's hurricane warning was downgraded to a tropical storm warning as hurricane-force winds were no longer forecast.
As at 5 pm, the centre was located approximately 180 miles northwest of SVG.
NEMO's report indicates that sustained winds associated with 'Elsa' no longer pose a threat to St Vincent and the Grenadines as the system continues to track north west away from the islands.
However, pockets of moderate to heavy showers, periods of rain and thunderstorms are expected into tomorrow.
Over two inches of rainfall was recorded across the country with an additional two inches (50mm) with isolated higher amounts predicted.
A flash-flood watch will be in effect for SVG until 6am Saturday July 3.
A high surf advisory and small craft warning are also in effect until 12 noon on Sunday July 4.
Small craft operators are advised to remain in port and sea-bathers and other users of the sea are advised to stay out of the water.