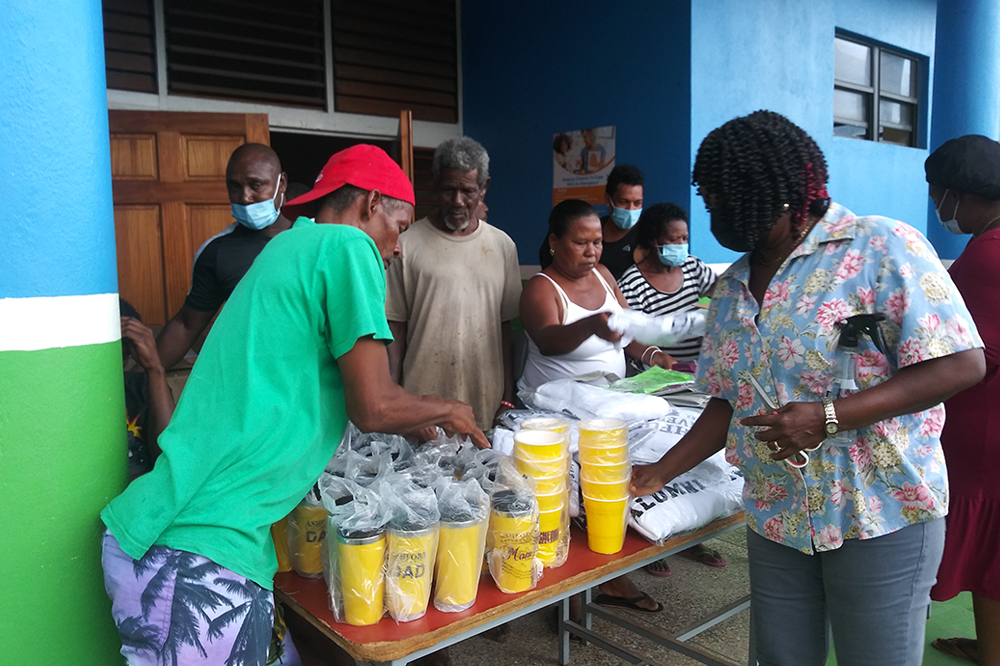 Press Release
June 4, 2021
SVG Helping Hands brings cheer to evacuees
SVG Helping Hands Inc. has been engaged in the distribution of supplies to evacuation shelters here as it seeks to live up to its name in helping to bring cheer to persons in need.
The local entity received a consignment from the San Diego, California- based non-profit organisation that included items for men, women and children who evacuated from the red zone due to the explosive eruptions of La Soufriere volcano on April 9 2021.
The supplies included memorabilia of Ashford University memorabilia, one of the contributors to SVG Helping Hands Inc and is affiliated with the California based campus.
The provision of university T-shirts, lunch bags, cups, sweaters, flasks, tote bags, cups and notebooks was also the organisation's way of partnering with others to bring cheer to those in need, the release stated.
Local representative of SVG Helping Hands Inc. Sheron Charles, said the 12-year old SVG Helping Hands Inc has been quietly, yet vigorously ensuring that some 20 local non-profit institutions across the country receive assistance by supplying their wish lists.
Charles credited founders, Susan Child-Ellis, Natasha Bullock-Odero and Sally Regisford who are Vincentians from the Biabou & Calder areas who migrated to the United States, as having the vision and passion to give back to their homeland.
She also noted that SVG Helping Hands Inc, which is based at New Montrose, ensures that Vincentians living in California get a taste of Vincy culture at their various fund raising events, which have raised thousands of dollars some of which has been donated to the Ministry of Foreign Affairs.
The items were distributed to shelters at : Argyle Primary School, Calder Government School, Biabou Methodist School, Adelphi Secondary School , Biabou Methodist Church, Stubbs Primary School, Adelphi Secondary School, Brighton Methodist School, and Biabou Learning Resource Centre , as well asthe Liberty Lodge Boys Training Center and the Guadaloupe Home for Girls.