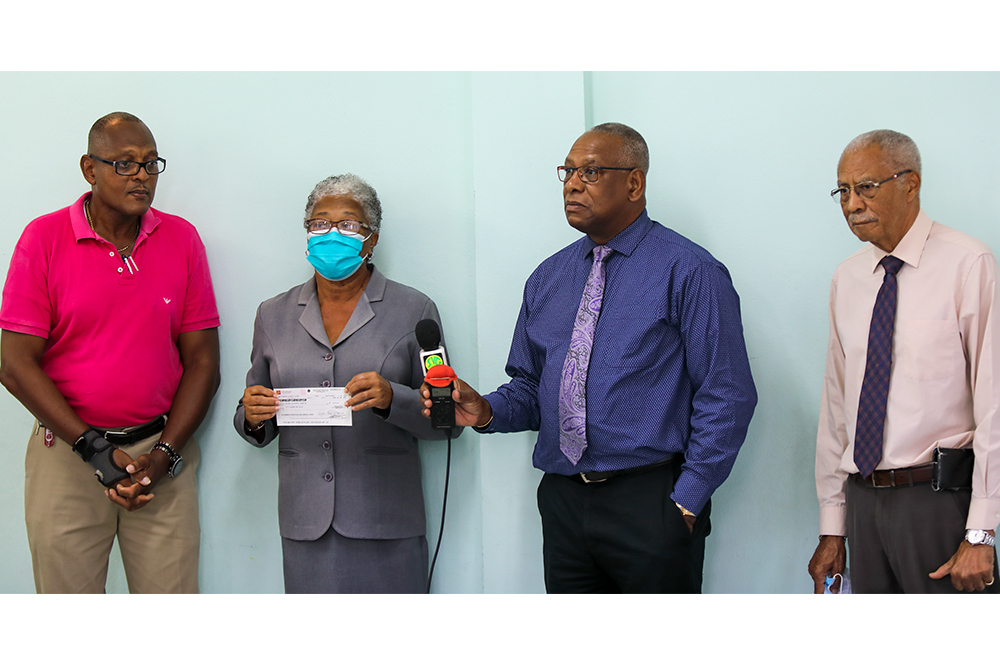 Press Release
May 21, 2021
Grant Thornton makes donation to support farmers and fishers from Red and Orange zones
Efforts to rehabilitate farmers and fisherfolk from the Red and Orange zones in the wake of the explosive eruptions of La Soufriere received a boost on Wednesday, May 19 when a cheque of $50,000 was handed over on behalf of the regional partners of Grant Thornton to the National Development Foundation of St Vincent and the Grenadines (NDF).
The cheque, which was received by Hermia Neehall and Roger Clifton of the NDF was presented by Floyd Patterson and Clifford Edwards of the audit, tax and advisory firm, and represents the fourth donation Grant Thornton has made to the volcano relief and rehabilitation efforts.
Shortly after the April 9 eruption of La Soufriere, the regional partners from offices in St Lucia, Antigua, St Kitts, Barbados, Trinidad, Curacao, Cayman Islands, the BVI, and representatives from Grant Thornton International (GTI) immediately pledged assistance to the St Vincent office and the persons displaced by the eruption after viewing graphic photographs of the devastation in a presentation made by Patterson, who is the firm's resident partner.
The first donations from Grant Thornton were made on April 30 when Patterson handed over three cheques amounting $145,000, shared among NEMO, the St Vincent and the Grenadines Red Cross Society, and St Mary's RC School for the children of the St Benedict's Day Nursery, to meet the immediate needs, including medication for persons living with chronic illnesses, of persons displaced by the eruption. 
To date, Grant Thornton's contribution to La Soufriere volcanic relief and rehabilitation efforts is in excess of $200,000, including food stuff and other supplies.