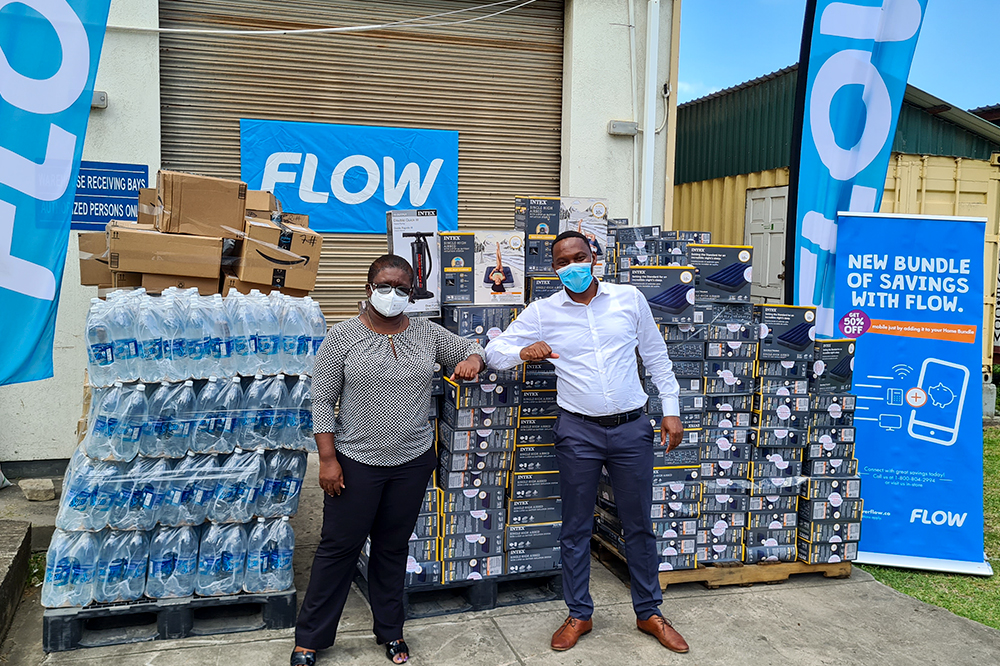 Press Release
May 14, 2021
Cable & Wireless Charitable Foundation donates to NEMO
Flow, the country's leading telecommunications provider, has not relented in its efforts to support the relief efforts across St. Vincent and the Grenadines following the April 9th eruption of the La Soufriere volcano. On Tuesday 11th May, Flow Country Manager Mr. Wayne Hull presented 400 airbeds, 400 air pumps and linens to the Director of the National Emergency Management Organisation Ms. Michelle Forbes at Flow's Arnos Vale campus.
Director Forbes in her remarks stated: "I wish to express my sincere thanks. We have had over 18,000 persons displaced as a result of the eruption, with persons staying in private homes, and we have another 4,000 persons in shelters. We continue to provide for the needs of those persons who are still requesting bedding. These mattresses and donations by Flow today will go a long way to alleviate some discomfort and I would like to again express my sincere thanks to Mr. Hull and his team for this donation today."
In his response, Flow's Country Manager Wayne Hull said, "the eruption of the La Soufriere volcano on April 9th still remains a severe humanitarian challenge for Saint Vincent and the Grenadines. Flow and Cable & Wireless Charitable Foundation remains standing with the people of St. Vincent and the Grenadines. Today we are donating 400 air mattresses, air pumps and bed linens to the National Emergency Management Organisation and this would go a long way to assist the displaced citizens from the Red Zone and those who are still in need.
I would like to thank the Director of NEMO and her office for continuing to manage the humanitarian crisis here in St. Vincent and protecting the lives of every citizen. I wish to encourage them to keep up the good work as we seek to rebuild St. Vincent and the Grenadines."
The Country Manager also added that Flow will be launching new budget-friendly data plans to help students and educators stay connected to online learning platforms such as Microsoft Teams, Zoom, and Flow Study for Free. He ended by sharing that in addition to the contributions his team and the CWCF has made, Flow will further provide 500 sim cards to the Ministry of Education for distribution next week.
Since the April 9th volcanic eruption, Flow has distributed more than 20,000 litres of drinking water to the Vincentian public, provided the customer base with free credit, free data, and suspended billing for customers within affected Red Zone communities.