Posted on
Vincentians in the diaspora mobilise relief supplies for SVG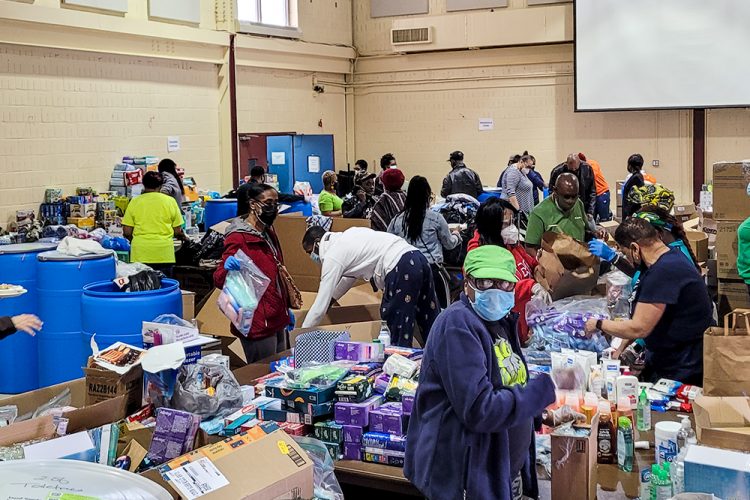 VINCENTIANS IN several diaspora locations responded overwhelmingly to a weekend relief mobilisation effort in support of solidarity with volcanic relief efforts, a release stated.
Major locations included New York, Florida, Los Angeles, Atlanta, and the DMV (Delaware, Maryland and Washington DC) area (USA); Derby, Coventry, Oxford, High Wycombe, Luton, Reading and London (UK); and Toronto, Canada.
Ambassador Lou-Anne Gilchrist made a visit to the collection point in Maryland, where a 40ft container was being packed in Baltimore at the Hairoun Lounge owned and operated by Kenley "Shortmus" John.
Ambassador Gilchrist acknowledged the overwhelming support in the DMV area, including that of the wider Caribbean community, and stated: "We appreciate the unhesitating response and the ready generosity of our Caribbean brothers and sisters at this time of need."
The drive was coordinated by the Caribbean Disaster Relief and Recovery Alliance Inc. Persons can make tax deductible donations via PayPal on www.
cdrra.org, Cashapp at $CDRRAInc, or Zelle at [email protected]
"Overwhelmed, tearful to say the least" was the way Deiana Stapleton, chair of the Oxford SVG and Friends Association, described her feelings with the show of solidarity by Vincentians and friends in the UK who donated to the relief drive.
She noted that the Council of SVG Associations UK, headed by Noel Lewis, worked in collaboration with the SVG High Commission and Waypoint Enterprises to coordinate all of the logistics for shipping from the UK.
One 40ft container left the port on April 21. While locations in the UK will cease to accept donations for shipment, persons can continue to make monetary donations online via the: UK-SVG Friendship Trust Gofundme at: https://gofund. me/90dbdc94. The fund has already raised over £200,000 of its initial £250,000 goal.
In Canada, Counsul General Fitz Huggins, was in high spirits and indicated "five containers have already [been]shipped from Toronto after one week". So overwhelming was the donation of bottled water to respond to the water challenges in SVG, that the CG issued an appeal for donors to hold off on bringing water until further notice. He indicated that donations will continue to come in from other locations around Canada, and collection will continue in Toronto at KLC Shippers, which has provided free shipment to SVG.
CARION-SVG will also continue accepting monetary donations through its Gofundme: https://gofund. me/2dec1189.
The fund has already raised over $66,000 of its initial $100,000 goal.
In Florida, Ivor DeShong, Vice President of the SVG Organization of Central Florida Inc., referred to the volunteers who helped to pack donations as "capeless heroes".
He also acknowledged the overwhelming support of their donors. Persons can continue giving online via: Cashapp: $svgcfo or Zelle: [email protected]
In NYC, Counsel General to the NY, Howie Prince, issued a statement thanking persons gathered at the Friends of Crown Heights (FOCH) Educational Center in Brooklyn. He proclaimed "a loud thank you to everyone for your various contributions to making last weekend's mobilization efforts a resounding success. All of your work, efforts, advocacy and contributions are noted with thanks."
The statement went on to identify SVG Relief USA Inc., COSAGO, and SVGDRIP for logistical support.
Laverne McDowald, President of COSAGO and member of Relief Inc.
had this to offer: "hats Off to Vincentians, friends and supporters. The outpouring of support to our relief drive in the NY area is an expression of love and care for our fellow Vincentians. This is humanity at its best".
One 40ft container has already been moved to Standard Shippers in NY for onward transhipment to SVG.
Two additional 40ft containers and the shipping costs have been donated by Ruby Woods of Square Deal Shippers, and Carl Monroe Standard Caribbean Shippers, respectively. Packing continued at FOCH on Tuesday April 20, 2021 from 6pm-10pm.
Monetary donations can be made via Zelle: [email protected] gmail.com or via PayPal at: https://bit.ly/3dqynAF NYC Mayor Bill deBlasio also held a press conference on Tuesday April 20, 2021 at Friends of Crown Heights Educational Center to show his solidarity with the people of SVG and to symbolically hand over two containers of food and water for ongoing relief efforts for the people of SVG.
The value of the combined relief donations so far from across the Vincentian diaspora is well into the millions of EC dollars.