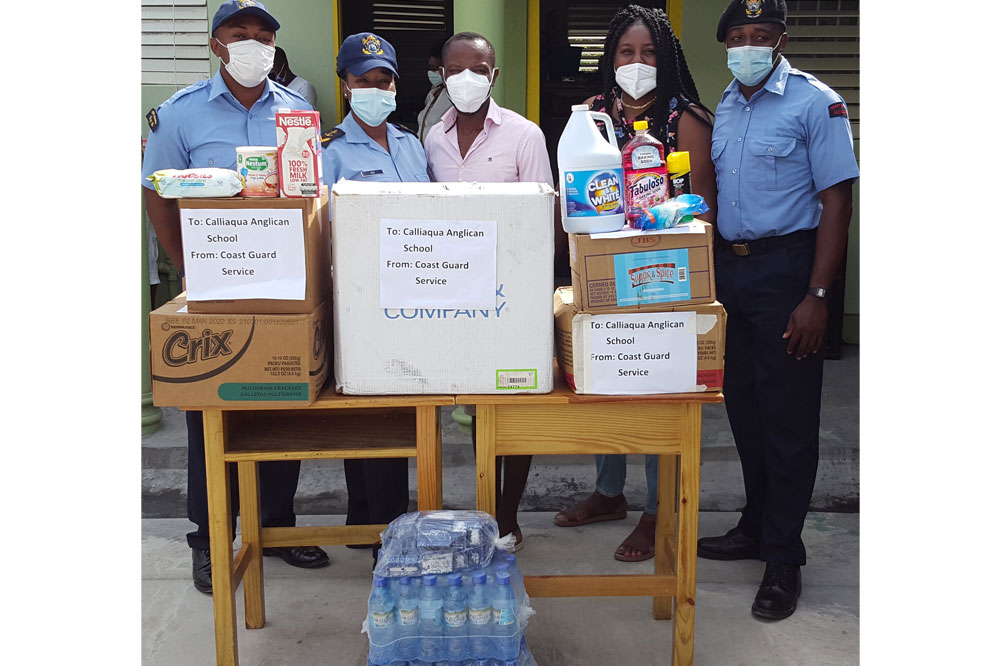 Press Release
April 30, 2021
SVG Coast Guard Service donates to Calliaqua shelter
The St Vincent and the Grenadines Coast Guard Service (SVGCG) donated a quantity of relief items to the Calliaqua Anglican School shelter to ease the stress and enrich the quality of life of the occupants residing there. These essential items were handed over to shelter manager, Mr Marlon Joseph at a brief ceremony on Wednesday April 28.
Joseph said the donation is timely, adding that the delivery of the items at this time meets the shelter needs. He thanked the SVGCG service on behalf of the shelter and its occupants. Joseph said that he looks forward to collaborating with the SVGCG to educate the occupants on some aspects and skills associated with the Coast Guard service during their stay at the shelter.
Leading Seaman (LS) Sherika Diamond-Dick who handed over the items noted that the Coast Guard is dedicated to saving lives. She outlined that through a partnership with some entities from Grenada, they were able to procure the items.
"The SVG Coast Guard pounced on the opportunity to touch the lives of the persons at the Calliaqua Anglican School shelter who were displaced as a result of the explosive eruption of the Soufriere volcano.
She conveyed greetings on behalf of Coast Guard Commander, Mr Brenton Cain, and the rank and file of the SVGCG service and by extension the Royal St. Vincent and the Grenadines Police Force; and thanked the shelter management team for the opportunity to assist the evacuees in a positive way. She further stated that the SVGCG will be partnering with the shelter management team to provide training sessions in basic seamanship and knots and splices for the evacuees, while adhering to all the Covid-19 protocols.