Posted on
ALBA shows solidarity with SVG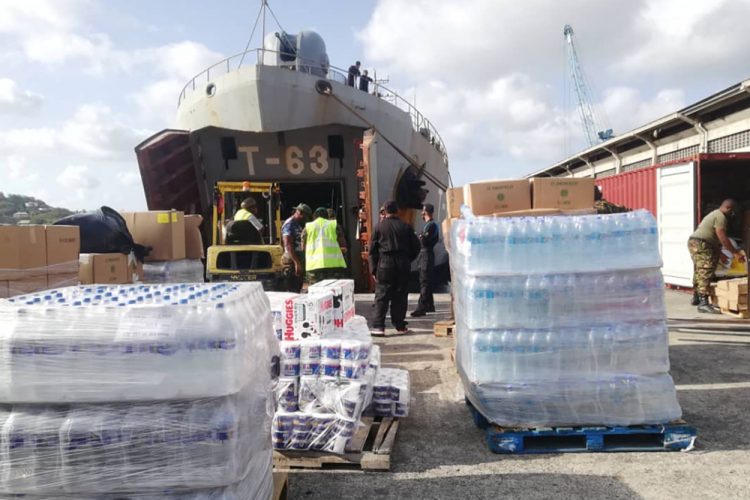 In the Framework of cooperation and solidarity among the member countries of the Bolivarian Alliance for the Peoples of Our America- People's Trade Treaty (ALBA-TCP), the implementation of the Humanitarian Bridge is proceeding to serve the people of Saint Vincent and the Grenadines, following the activity of La Soufrière volcano, which had been dormant for the past 42 years.
The president of ALBA Bank, Raúl Li Causi, pointed out that "the idea of this humanitarian bridge is to help other countries in the region, which do not have the logistics, to bring the supplies they have collected to Saint Vincent and the Grenadines", highlighting Venezuela's cooperation with the Bolivarian Army vessel, which is available to the Caribbean nation to make trips to the islands and countries of the Eastern Caribbean to transfer water and food to those affected by the volcanic eruption.
After the Government of Venezuela sent 20 tons of humanitarian aid to St. Vincent and the Grenadines, including water, food, mattresses, sheets and personal hygiene packages, in addition to 68 doctors and experts in natural disasters, including 15 officers of the Simón Bolívar Humanitarian Task Force, the vessel headed to St. Lucia to transport the supplies that would be provided by that country.
"The government of St. Lucia was told that our ship could stop at two ports.
Prime Minister Allen Chastanet made an appearance there, and verified the humanitarian aid they are sending to St. Vincent and the Grenadines and thanked Venezuela and the ALBA-TCP for the humanitarian bridge", said President Li Causi.
He also reported that Cuba will send two planes with humanitarian aid, which will arrive in Saint Lucia due to the difficulties of landing in Saint Vincent and the Grenadines -due to the ashes generated by the eruption of the volcano- and from there the ship will again serve as transportation to the affected country.
The vice minister for the Caribbean of the Ministry of People's Power for Foreign Affairs, announced that Venezuela will also send 6 Cuban doctors who are in the country to serve the island's population.
"All this is part of the cooperation of ALBA, it is not only bilateral cooperation, but together we can face the needs of Saint Vincent", he emphasized.
Since Friday, April 9, the Vincentian population has been at risk due to volcanic activity. The first eruption produced a huge column of ash and forced the authorities to evacuate 20,000 people from the affected areas.
On Monday, April 12, another volcanic explosion was recorded, with a column of [ash] 17 kilometers high, leaving much of the Caribbean island plunged in ash, and affecting a part of Barbados.