Posted on
Sion Hill Euphonium celebrates its fortieth anniversary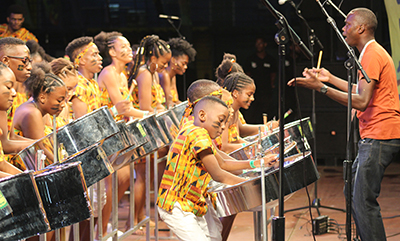 This Sunday, April 4, will mark the fortieth anniversary of the Sion Hill Euphonium Steel Orchestra- SHESCO.
To commemorate the occasion, members of the band have opted to worship at the Kingstown Methodist Church, from 7am this Sunday where they will give some renditions on steel.
Chair of SHESO Warren Knights, said that because of the prevailing coronavirus pandemic, the celebrations will be spread through to the rest of the year.
Knights said in a release that the plans will be unveiled on Tuesday, April 6, at a Press Conference scheduled for the Peace Memorial Hall, beginning at 10am.
Also on Tuesday, there will be a Round Table discussion, from 7 pm at the Peace Memorial Hall, as the history of the orchestra will be retraced. On the panel will be David " Darkie" Williams, Earl " Caba" Bennett, Warren Knights and Tillal Webb.
The SHESCO's 40th anniversary celebrations will be held under the theme : " Celebrating our Culture, Preserving our Future".