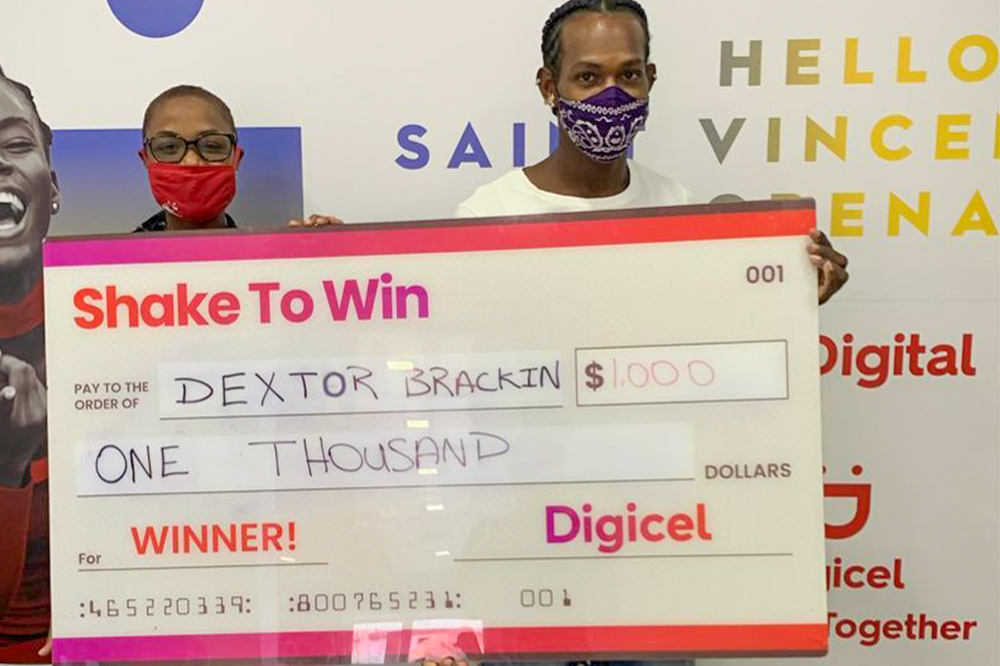 Press Release
February 19, 2021
Long standing customer wins $1000 in Digicel's 'SCRATCH & WIN' promotion
Dexter Brackin, a long-standing Digicel customer is the first winner of $1000 cash in the Digital Operator's 'SCRATCH & WIN' promotion.
Brackin and all other Digicel Prepaid customers are given the chance to win $1000 in cash weekly when they Top Up $10 or higher and collect the names of all eight Digicel Digital Apps. The SCRATCH & WIN promotion commenced on January 13, 2021and runs until March 31, 2021. Dexter was the very first customer on record who collected the names of all eight apps and won his share of cash from Digicel.
The SCRATCH & WIN promotion by Digicel offers attractive and practical prizes to customers and resellers of the brand.
These prizes, thousands in quantity, include $1000 cash weekly, free smartphones, credit, Digicel Prime bundles, and much more. To provide continuous incentives to its resellers, Digicel has extended the promotion to offer weekly prizes such as free credit and branded merchandise to support their daily trade. Shirley Balkinson, Sherrian Dorsette and Shantal Parson are this week's batch of authorized resellers whom all won prizes in the promotion.
Digicel´s SCRATCH & WIN is a consumer-focused, life-made-easy promotion; geared primarily towards rewarding users of the brand.
With the aim of customer satisfaction, Digicel continues to offer rewards to its consumers regularly. To be eligible to win prizes, customers are always encouraged to Top Up; pay their Postpaid bill; activate Prime Bundles; sign up for home internet or simply join the Digicel network. Resellers of the brand gain rewards when they meet basic sales targets.