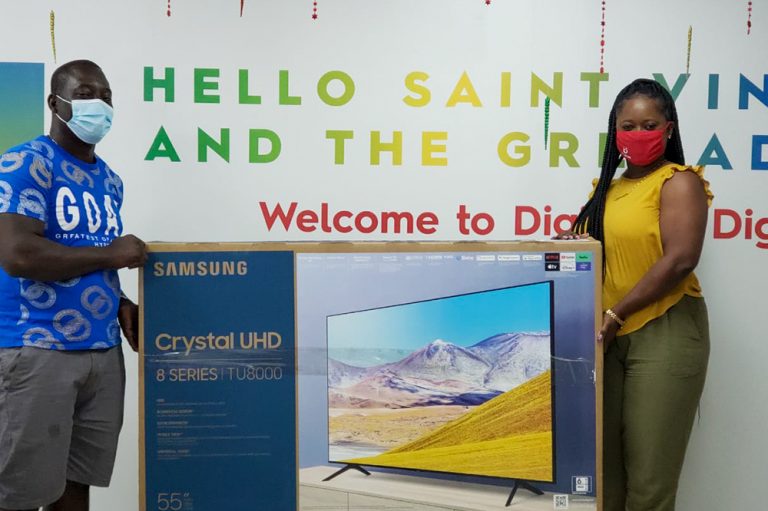 Press Release
January 8, 2021
Digicel customer wins 55" Samsung TV
Dexter Layne, a Digicel customer who joined the network in August 2020 is the winner of the telecommunication provider's 'Shake It & Win" Christmas Text-to-Win Promotion.
Layne, like thousands of other Digicel customers, was given the chance to win a Samsung 55" Smart Television by simply texting the word "SHAKE" to short code 6789. The cost of each text was EC$1. The promotion ran for a period of one month, with draw date being December 31, 2020. Layne's number was generated using an online application that showed he had participated the most times during the promotional period.
The "Text to Win" promotion by Digicel offered an attractive reward most customers wish for around Christmas. The Samsung 55" TV boasts of many features including: crystal display, and 4K UHD with 3840 x 2160 resolution. Dexter Layne would also now be able to watch his favourite movies and series from the Digicel PlayGo App by using the 'cast' feature to watch on his new Samsung TV.
Digicel´s "Shake it & Win" text promotion was a consumer-focused, life-made-easy promotion; geared primarily towards rewarding users of the brand.
With the aim of customer satisfaction, Digicel continues to offer several reward activities to customers on a regular basis. To be eligible to win prizes, customers are always encouraged to Top Up; pay their postpaid bill; activate Prime Bundles; sign up for home internet or simply join the Digicel network. Resellers of the brand are also rewarded occasionally when they meet basic sales targets.