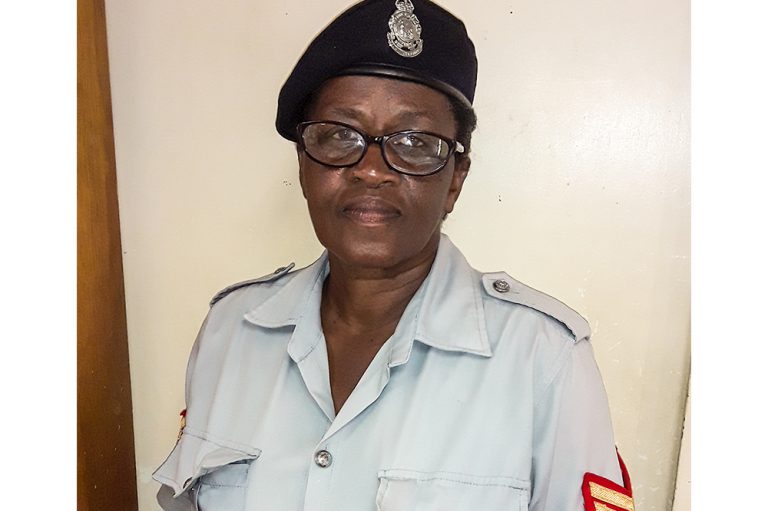 Press Release
December 18, 2020
RSVGFP female Auxiliary officer celebrates 40 years of service
Yvette Thomas, one of the first female officers to enlist in the Auxiliary Service of the Royal St Vincent and the Grenadines Police Force (RSVGPF) is this year celebrating her 40th anniversary of service.
The RSVGPF Auxiliary Police Force over the years has proven itself to be a tremendous asset in aiding to maintain law and order throughout SVG. As part of this essential establishment, are officers who have devoted their time and efforts in ensuring that their duties are performed above reproach. Thomas is one such officer.
Enlisted into the auxiliary force on September 16, 1980, Auxiliary Sergeant Thomas was amongst the first female officers to have taken the leap to be enlisted within Auxiliary Service. Over the years, she has been stationed at various locations throughout the country to perform duties and is now currently assigned to the Kingstown Town Board as head of security; a position she has held for the past 20 years.
Thomas has attended and participated in almost every Independence Parade since her enlistment. She also acted as Guard Commander on the parade on numerous occasions.
The long- serving Auxiliary Sergeant explained that her experience over the years has been challenging and still continues to be so even today. However, she stated that she is more than willing to meet these challenges head on, as she continues to abide by and uphold the regulations that governs her duties.
The Commissioner of Police, Colin John, Commander of the Auxiliary Force, Michael Charles and the rank and file members of both the RSVGPF and the Auxiliary Police Force congratulate Auxiliary Sergeant Yvette Thomas on this momentous achievement.