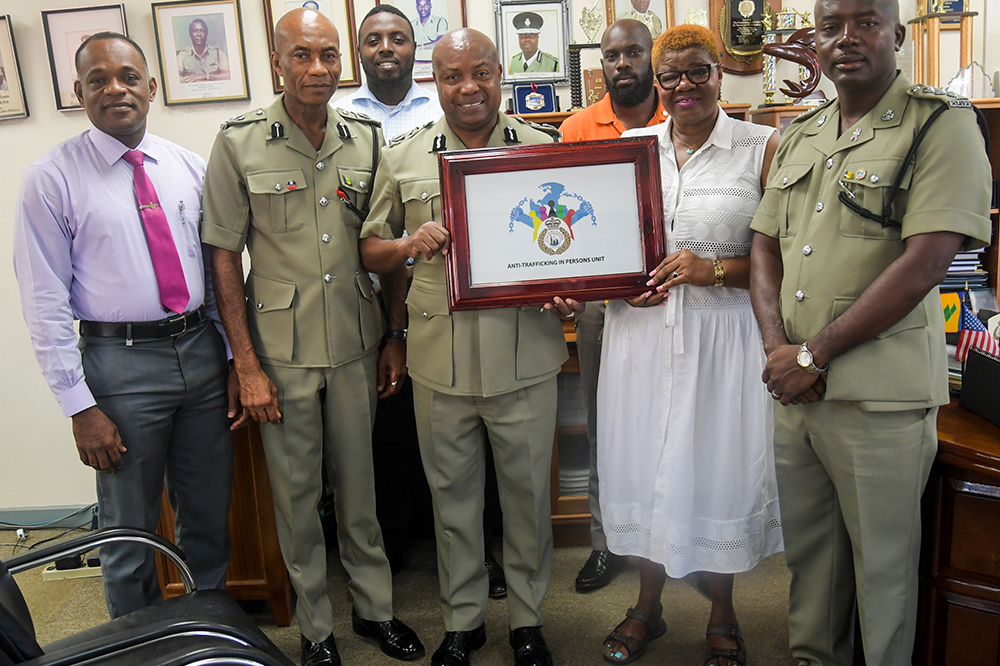 Press Release
September 15, 2020
Former head of the ATIPU honoured
ON THURSDAY September 10, Commissioner of Police, Colin John presented a framed copy of the newly released official logo of the Anti-Trafficking in Persons Unit (ATIPU) to retired Superintendent of Police, Ruth Jacobs.
In making the presentation, the Commissioner commended Jacobs for her years of service to the Royal St Vincent and the Grenadines Police Force (RSVGPF) and the people of St Vincent and the Grenadines. He told Jacobs that being the first person to head the Anti-trafficking in Persons Unit (ATIPU), it was only fitting that she be the first recipient of a copy of the unit's logo.
In her response to the presentation by the Commissioner, Jacobs thanked the Commissioner for his decision to recognize her in such a way. She stated that although she has retired from the organization, she still feels closely connected to it. She wished the Commissioner and the rank and file officers success in their quest to make SVG a safer place. Witnessing the presentation were: Assistant Commissioner of Police, Leonard Fergus, Superintendent of Police, Clauston Francis, Assistant Superintendent of Police, Junior Simmons and staff of the ATIPU.
Jacobs retired from the Police Force in 2017 as the Officer in-charge of both the Criminal investigations Department (CID) and Anti-trafficking in Persons Unit (ATIPU) respectively. She was succeeded by SOP Francis and ASP Simmons. The presentation was done at the Office of the Commissioner of Police.