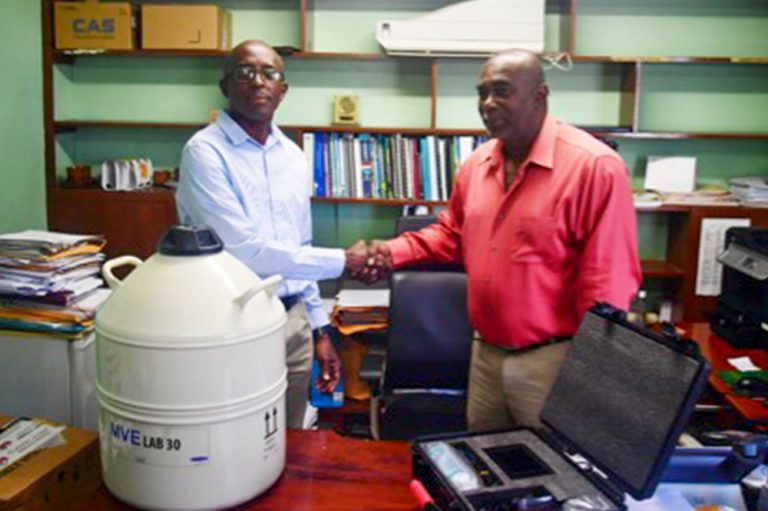 Press Release
September 11, 2020
IICA Supports Efforts to Develop the Livestock Sector in St Vincent and the Grenadines
The Inter-American Institute for Cooperation on Agriculture (IICA) and the Ministry of Agriculture, Forestry, Fisheries, Rural Transformation, Industry and Labour, together hosted a brief ceremony for the handover of pieces of equipment, representing part of IICA's contribution to support efforts to develop the livestock sector.
At the ceremony, Michael Dalton, IICA's Technical Specialist at the Delegation in St Vincent and the Grenadines, presented a Veterinary B Mode Ultrasound Scanner and a 30-litre nitrogen tank, collectively valued at approximately XCD$13,900 to the Permanent Secretary in the Ministry of Agriculture, Raymond Ryan. This equipment is intended for use by the Animal Health and Production Division (AHPD) to assist in their work to provide improved services to the livestock farming public especially and especially in support of animal reproduction.
Dalton pointed out that the contributions received by the Ministry were outputs from a project titled, Capacity Building to Support the Development of the Livestock Sector in St. Vincent and the Grenadines. The objective of this project is to support the efforts of the Ministry of Agriculture to develop the local poultry and small ruminants sectors. The primary beneficiaries of the project are the Ministry of Agriculture and farmers engaged in these types of enterprises. He further noted, that the Ministry of Agriculture stands to receive capacity-building support that is directed towards improving operations at the government-owned hatchery at Dumbarton, and that further intervention will be made into the training of farmers in small ruminant production in close collaboration with the AHPD.
Raymond Ryan, Permanent Secretary in the Ministry of Agriculture, in accepting the equipment, thanked IICA for its most timely donation and support to the work of the Animal Health and Production Division of the Ministry. He noted the long and very important relationship between IICA and the Ministry of Agriculture and IICA's past work in support livestock, crop agriculture and apiculture development.
IICA is the specialized agency for agriculture in the Inter-American system, with a mission to encourage, promote and support its 34 Member States in their efforts to achieve agricultural development and rural well-being through international technical cooperation of excellence.