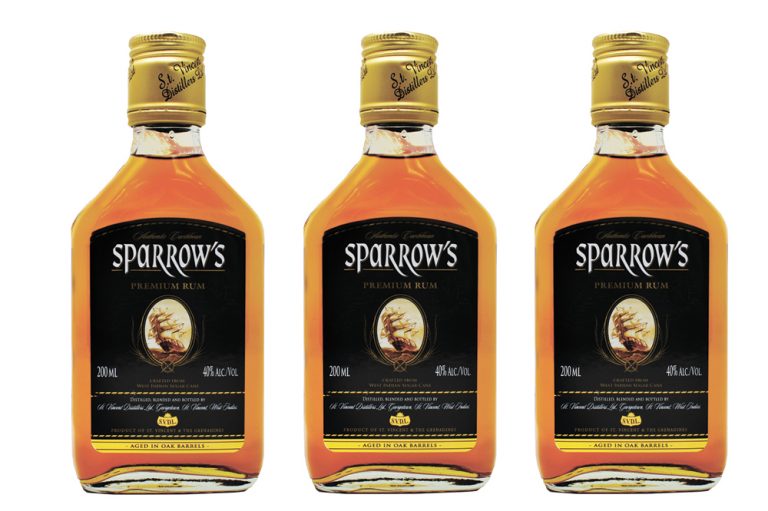 Press Release
August 28, 2020
Sparrow's rum now available in 200ml bottles
St Vincent, we heard you! The nation's top-selling rum, Sparrow's Premium Rum is now available in 200-ml bottles at rum shops and retail outlets throughout St. Vincent and the Grenadines.
Bending to popular demand, St Vincent Distillers Ltd, producer of the country's leading dark rum has added the new pint-sized bottle to its roster of award-winning rums. Sales of Sparrow's Premium Rum is second only to the world's leading over-proof rum, Sunset Very Strong Rum, also produced by SVDL.
"We are pleased to be able to respond to the overwhelming demand for the smaller Sparrow's bottle, particularly at rum shops where "pitis" and "quarts" (the local term for 100- and 200-ml quantities) are frequently requested," said SVDL's Brand Manager Somori Marksman. "We look forward to this opportunity to expand the market for our most popular dark rum," he added.
Sparrow's Premium Rum has been a consistent winner in international competition, including gold and silver at the 2019 and 2020 World Rum Awards in London. The tasters said of the Sparrows: "This rum starts off very simple and subdued. Cola aromas, cola sweets, spiced pear, rosemary and cooking spices. There is some wood smoke too. The palate is straight forward and simple. Lovely dried stone fruit flavours build from a light nose and across the palate.
Gentle baking spice finish. Nicely integrated tannins."
In addition to Sparrow's Premium Rum and Sunset Very Strong Rum, St. Vincent Distillers is also the producer of Captain Bligh XO Special Reserve, acknowledged as one of the world's leading aged rums; and SLR, another recent gold award winner.
You can read more about St. Vincent rums at www.sunsetrum.com.