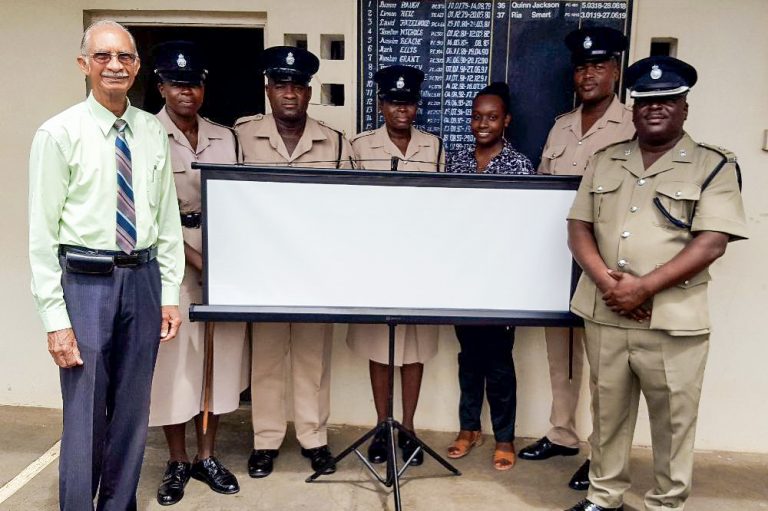 Press Release
July 31, 2020
Sagicor donates to RSVGPF Training School
THE ROYAL ST VINCENT and the Grenadines Police Force (RSVGPF) Training School has received a portable projector screen for use during the delivery of lecture.
In a brief handing over ceremony held at Old Montrose Police Station on Wednesday July 29, Syd Hazel, representative of Sagicor handed over the equipment to the Commandant of the Police Training School, Superintendent Benzil Samuel who accepted the donation on behalf of the Commissioner of Police Colin John.
Hazell said it was a pleasure to make the donation which would be a useful tool that will not only benefit the Training School but the entire Royal St Vincent and the Grenadines Police Force.
He said he is always willing to help in any way possible and encouraged other outstanding citizens and members of corporate society to partner with the Police Force as they strive to deliver effective and efficient service to the citizenry of St Vincent and the Grenadines.
He further opined that Government is not always able to provide the necessary tools required for the job, which is why the RSVGPF needs to have a collaborative partnership with corporate society and nongovernmental organizations in order to enhance the service that is provided to the general public.
In receiving the donation, Superintendent Samuel thanked Hazell and by extension Sagicor for their generous contribution to the RSVGPF Training School and stated that the learning apparatus would play a pivotal role in the development of the organization as it evolves into a modernized entity.
He expressed that RSVGPF is open to partnering with the Private Sector, Non Profit Organizations, Statutory Corporations, Business Enterprises or any private citizen as they work hand in hand to build the organization and strengthen the relationship with the public. He further outlined that the relationship forged between corporate society and the RSVGPF has been long standing and serves as a catalyst in the fight against crime and uplifting of the country as a whole.
The ceremony was witnessed by the staff of the Old Montrose Police Training School and the Police Public Relations and Complaints Department.