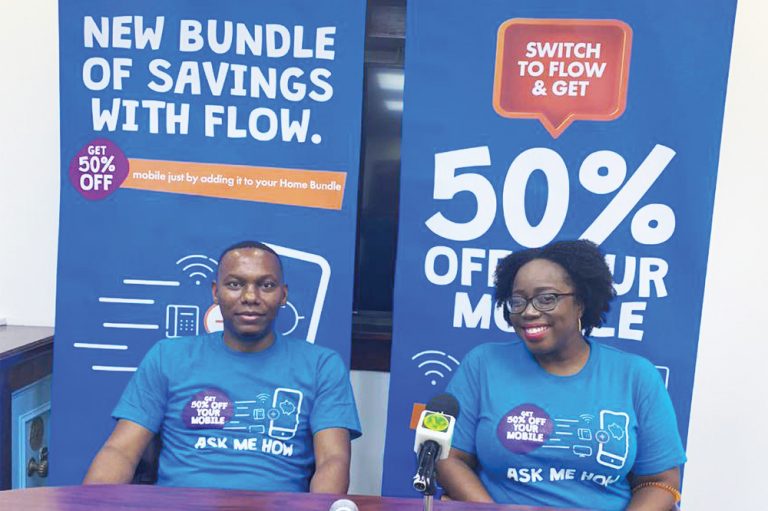 Press Release
July 10, 2020
Flow now offering customers flat monthly rate for bundled services
FLOW customers may now pay one flat monthly rate for all their services, including their postpaid and prepaid cellular phone bills.
The telecommunications company is now bundling their postpaid or prepaid mobile, Internet, Cable, and fixed line bills. This latest initiative was announced July 3 during a press briefing.
Country Manager at FLOW Wayne Hull said that the company continues to offer increased value to customers and has restructured its mobile postpaid plans, "with even greater value and benefits on the fastest LTE network."
Hull said that the company's "small postpaid plan", now includes 15 GB of mobile data, 2000 minutes to call both FLOW and DIGICEL local numbers, 2000 text messages to any network, 250 minutes for regional calls and 100 international minutes. Data can also be used while roaming in other FLOW countries. This package costs EC$110 a month.
The medium package allows customers 30 GB of data, 4000 minutes to call both networks locally, 4000 text messages to both networks, 500 regional minutes and 200 international minutes. An additional user may also be added to this plan which costs EC$150 a month.
The large plan allows for unlimited mobile data, calls and text messages, 1000 regional minutes and 400 international minutes. Three users may be added to this plan which starts at EC$250 a month.
Hull announced also that their "All in" and "All in plus" bundles have been upgraded with greater Internet speeds, international and local calling minutes.
The "All in" bundle offers local unlimited fixed line to fixed line calls and 150 Mb/s Internet while the "All in Plus" offers Internet of 250 Mb/s, the HBO movie package, unlimited fixed line to fixed line calling and 1000 international minutes.
Both bundles have cable television options.
"This is one of the greatest transformations ever," Hull said while also announcing that when you add a mobile plan to these bundles, FLOW will give you 50 percent discount on the mobile plan.
He said these plans can be put on a single bill while customers may also port their number or switch from Digicel to FLOW.
These offers are also available for prepaid customers, who Hull says will get double data when they add their prepaid number to any of the bundles.
He encouraged customers to switch using the mobile portability options.
FLOW's Marketing and Corporate Communications Manager Nikala Williams said the new plans are packed with value and an opportunity to chop bills in half in some instances.
She noted that the options are also available for existing customers as it is very important that existing customers are rewarded for their loyalty to the company.