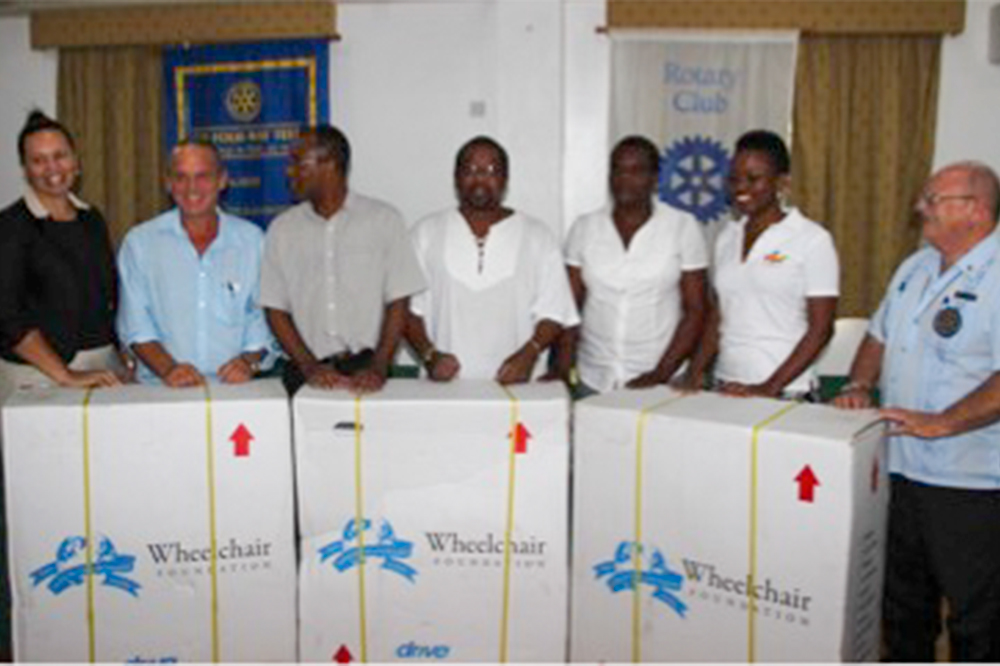 Press Release
June 23, 2020
Supporting the Rotary Wheelchair Project
By Dr Julian (Jules) Ferdinand
"Rotary opens opportunities." Rotary International Theme 2020-2021
The prevalence of diabetes has resulted in a corresponding increase in the number of person who need wheelchairs.
Many Caribbean nations are struggling with the task of providing services to those impacted by this chronic disease.
Throughout the region health professionals are battling with the number of individuals who have lost their sight and/or limbs as a result of uncontrolled and/or excessive glucose levels.
During the last decade, the various regional ministries of health, along with several groups and organisations, have sought to introduce programmes aimed at increasing physical activities (e.g. through exercise programmes) and reducing the consumption of high sugar products. This is most commendable. However, despite such efforts, many of our Caribbean nations continue to record alarming levels of amputees as a result of reduced blood flow in the feet and legs; a common medical challenge for diabetics.
Approximately ten years ago, the Rotary Club of St. Vincent embarked on a project aimed at providing wheelchairs to those individuals unfortunate enough to lose their legs due to the complication of diabetes or as a result of accidents. The joint efforts allowed the local club to supply over 1,000 wheelchairs to individuals and institutions at no cost to the recipient.
The club regularly engages in fund raising activities aimed at defraying the cost of these much needed mobility assisting items. The club has been ably supported by the Wheelchair Foundation, as well as several Rotary clubs throughout the region. In addition, concerned citizens and leaders of business entities have joined forces with the club by making financial contributions. The members of the club, and the society at large, will be forever grateful for their philanthropic efforts.
The Rotary Club of St. Vincent will shortly be importing approximately 250 wheelchairs of varying sizes. Individuals desirous of making a financial contribution are asked to contact any member of the Rotary Club or to deposit their contributions to bank account #109758 (Rotary Club of St. Vincent) at the Republic Bank, Kingstown.
Each contribution, large or small, provides an opportunity to enhance the mobility and relieve the suffering of citizens who would otherwise become a major strain on their respective care providers. As we each pause to help, these are the moments when humanity shines through as Rotarians and their friends open opportunities for the disadvantaged in particular and local communities in general.