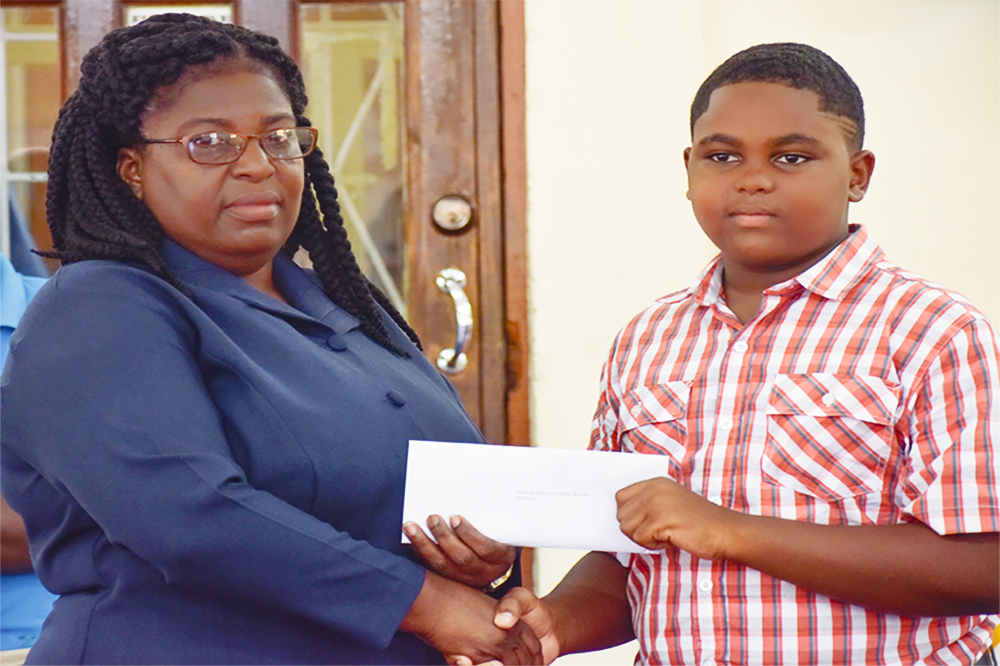 Press Release
August 16, 2019
Student receives full scholarship from Bunpan
On Thursday August 8, the Marriaqua United Friendly Society (Bunpan) held its annual educational awards ceremony at the Society's headquarters at Freeland, Mesopotamia. On that occasion one full scholarship was awarded along with 29 smaller one-off awards.
The full scholarship was won by Kiefer Hazelwood, a pupil of the Bequia Anglican Primary School who paced 52nd for boys and 125th overall with 87.4 per cent in the 2019 Caribbean Primary Exit Assessment (CPEA).
Kiefer, who is the son of Ruth Alves of Bequia will attend the St Vincent Boys Grammar School from September 2019. His scholarship award is worth $1400 per year and will last for seven years provided his performance is satisfactory. Additionally, Kiefer's external examinations' fees will be paid for by the Bunpan Society. The ceremony also saw the presentation of smaller awards of $100 to each of the other successful applicants who were either members or the children of members of the Society.
Speaking before an audience comprising representatives of the Board of Directors and Management and staff of Bunpan and pupils and their parents/guardians, motivational speaker Dollis Caesar Alexander encouraged the young pupils (about to enter secondary school) to find the source of their power in God. Alexander went on to identify the need for the pupils to exercise control over their time and energy in order to steer the course of their achievement. She insisted that careful research, saving the positive things and staying close to the guidance of their parents/guardians were all necessary traits for successful educational and personal development. She also urged parents/guardians to be responsive to the concerns and needs of their children as they navigate their growth.
As the Marriaqua United Friendly Society commemorates 65 years of service under the theme "Consolidating Our Achievements, 65 years of Service, 1954-2019!", the Board of Directors wishes to thank all members and supporters who have contributed to the Society's progress over the last six and a half decades.