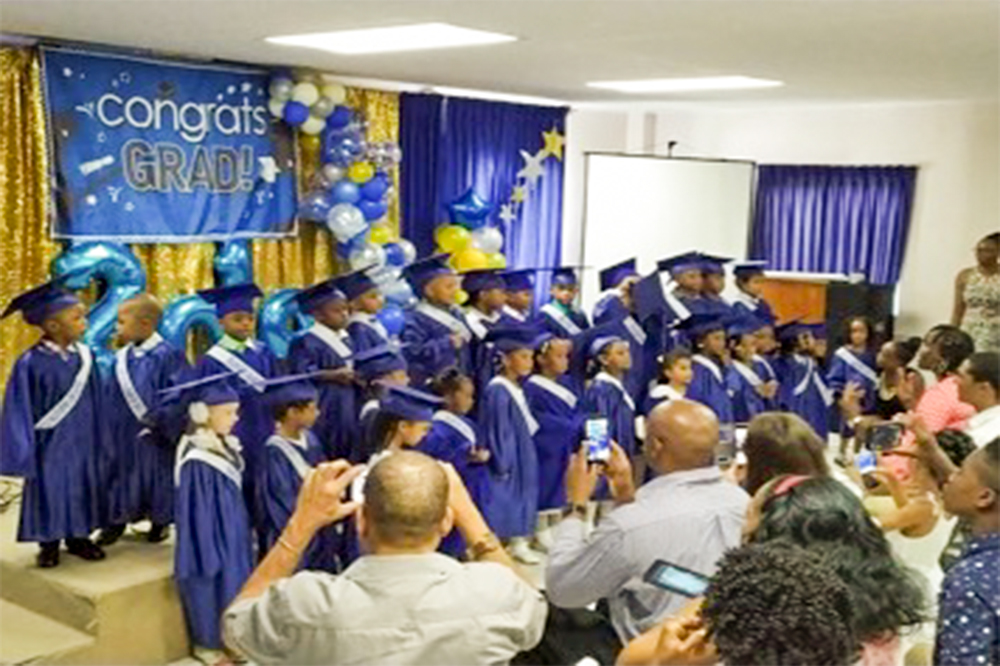 Press Release
July 26, 2019
Headstart Pre-Schoolers Shine at Graduation
On July 4, at Frenches' House, Kingstown, Headstart Pre-School demonstrated why it has become a staple in early childhood education over the 23 years of its operation.
At its 2019 graduation ceremony, parents and teachers alike beamed in awe and with pride as the courageous and high-spirited four-year-olds entertained.
Akayla Latchman welcomed parents and supporters. Kristen Thomas delivered the poem "I'm a Little Graduate". Akili Neverson and Jediah Luke, played the piano, "Kumbaya" and "Mary Had a Little Lamb" respectively. Sofia Joachim educated the audience on dinosaurs, fossils, and paleontology. Zoey May danced to Alessia Cara's "How Far I'll Go". Daniel Garraway and Jaedon Cromwell presented a poem "Fire Fighters" and Aidon Shearman and Jourdan Cromwell recited the poem "I am Special". A poetic tribute to mothers was rendered by Amori Jardine. Zemira Samuel offered the audience various facts on St. Vincent and the Grenadines. Xid Toney, J'Shawn O'Brien, Christopher Haynes, and Micha Adams gave historical depictions of this country's political leaders from Robert Milton Cato to Ralph E Gonsalves. A receptive and appreciative crowd rewarded the preschoolers with rousing rounds of applause.
Parents lauded the pre-school for its commitment to a holistic approach to education and an inclusive educational environment where children with disabilities, speech impairments, down syndrome, autism—varying special needs—have also been welcomed and have subsequently been able to function at the primary school level.
Marsha King expressed satisfaction. "Headstart couldn't have done a better job. They did everything expected and more. They allowed the children to be themselves." King's daughter Akayla received First Place award, Star Reader, Swimmer, Most Organised and Most Helpful Student awards at graduation.
Eslyn Thomas articulated her pleasure with "the variety and quality of activities to which the students were exposed, during their time at Headstart." Among these were swimming, tennis and soccer.
She expressed satisfaction that Headstart "is strong on discipline, social development and good nutrition […] a well-rounded package. Headstart ensures Kindergarten readiness. The students leave as strong readers […] the foundation for academic success." Thomas shared that her daughter, Kristen, acquired a limb difference. Kristen's left arm was amputated because of Infantile Fibro Sarcoma (a rare congenital condition). "Hats off to Aunty Lavinia [the school's principal] for her inclusive approach; Krissy felt no different. There was no discrimination." At graduation, Kristen received awards for Third Place, Tennis and Most Determined Student.
Headstart Pre-School has demonstrated that it has a winning formula; its current and past students shine, and parents continue to commend Headstart as having prepared the foundation for success.
Consistently, past students have excelled at the national level. In 2018 and 2019 past students secured top positions in Caribbean Primary Exit Assessment (CPEA).
While commenting on the importance of a good academic foundation, Ikarmola Laborde, mother of this year's top performer, Seanté Marshall, stated, "Mrs. Francis instilled good work ethics and encouraged the love of learning – wanting them [her students] to explore and not be satisfied with just the basics".
Bronte Gieowarsingh, mother of the 2018 CPEA top performer, Christian Gieowarsingh remarked, "If I had to do it over again, right back to Headstart."
In her speech given at the graduation ceremony, a dedicated and proud principal, Lavinia Francis, reminded her 30 graduands that "good manners and behaviour still take you through this world."
Based on the endorsements of the many parents who have used its services the preschool really has lived up to its name–-students have been given a head start toward success.