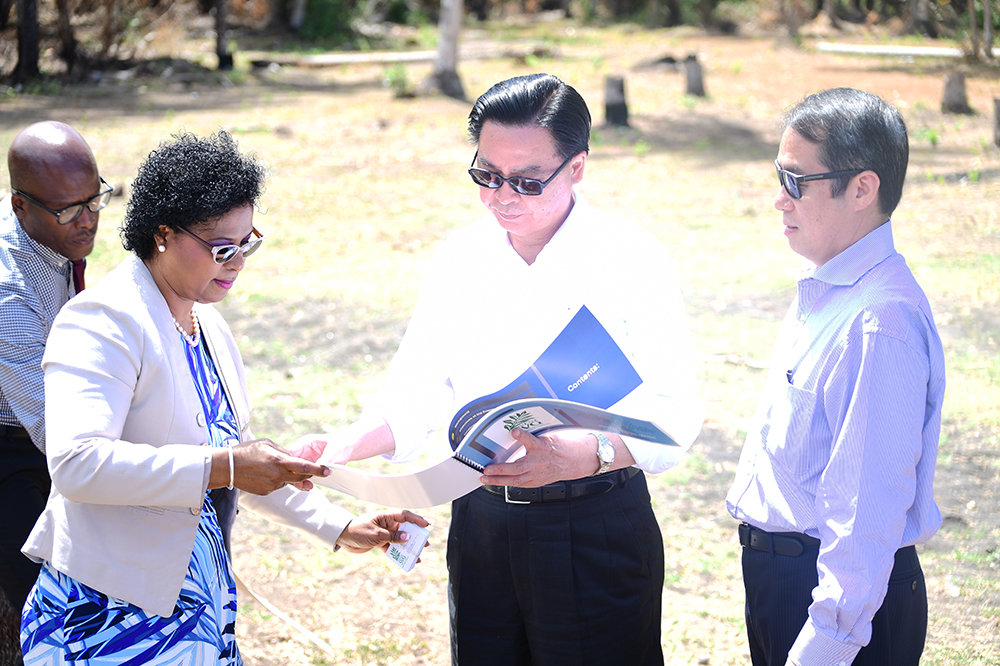 Press Release
June 5, 2019
Hotel Development at Mount Wynne progressing
Plans by the government of St Vincent and the Grenadines to construct a 250-room hotel at Mt Wynne are moving ahead with architectural contracts to be finalized.
This was revealed last Thursday, May 30, during an official visit by the Foreign Minister of the Republic of China on Taiwan Jaushieh Joseph Wu to the site at Mt Wynne. Executive Director of Invest SVG Annette Mark lauded the beaches' crystal clear water and said she is really looking forward to the ground breaking, noting, that the hotel is going to be beautiful.
According to Mark, they are at the stage where the architectural contracts are being finalized and next step is final contracts and "identifying our contractor". She attributed the project to the opening of the Argyle International Airport.
Taiwan's Foreign Affairs Minister Wu described the Mt Wynne hotel site as very beautiful. He said "This is unbelievable. The place is so beautiful and the nature is so nice and the people here are also so nice". When asked by Mark of his next visit, Dr. Wu disclosed that he will be back very shortly "with someone more important than I am".
Minister Wu and his delegation arrived in St Vincent and the Grenadines on Wednesday, May 29 and departed the following day. Taiwan and St. Vincent and the Grenadines commenced diplomatic relations in 1981.
Dr Jaushieh Joseph Wu was accompanied by Mrs. Wu, senior members of his staff and the Director-General of the Department of Latin America and Caribbean Affairs, Ambassador Tah-Ray Yui.
The Mt Wynne hotel will be constructed at a cost of US$50 million made available to the Government of SVG through a loan from the Export Import Bank of the Republic of China on Taiwan. (API)