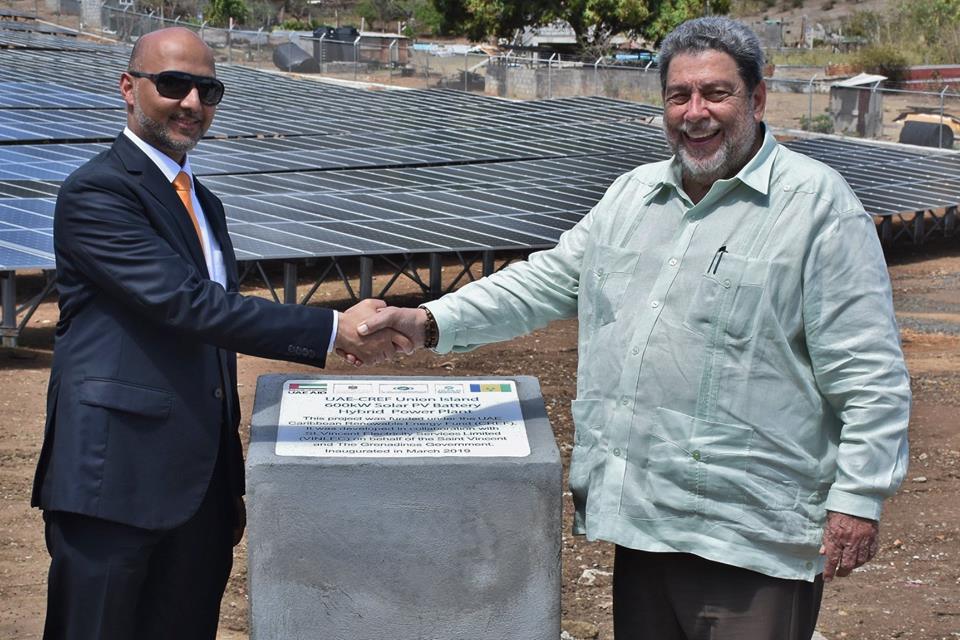 Press Release
April 16, 2019
Historic Day on Union Island with electricity produced solely from solar
Tuesday, April 16, 2019 was an historic day on Union Island and for the St. Vincent Electricity Services Limited (VINLEC).
For the very first time during the day, electricity on Union Island was produced using solely solar photovoltaic (PV) and battery energy storage.

"Today's historic event is possible after the successful completion of the Union Island Solar PV and Battery Energy Storage project last month. Over the past weeks, we have been testing the system to ensure the process runs smoothly. The Company is pleased with the outcome in this noteworthy project," a post on VINLEC's Facebook page said on Tuesday.
"In the near future, the solar PV farm will generate electricity on the island during the day to supply to the grid. We anticipate that on sunny days, the solar plant will generate excess electricity than is required to supply the average daytime load on the island. The excess electricity will be stored in batteries. The expected annual energy output is approximately 32 per cent of the electricity generated in Union Island in 2018.
"VINLEC wishes to express sincerest thanks to the residents of Union Island for their support and understanding during this process," the post said.
The UAE-CREF Union Island 600KW Solar PV Battery Hybrid Power Plant was officially opened on March 25, 2019. The project was funded under the UAE Caribbean Renewable Energy Fund at a cost of US$3 million and developed in collaboration with VINLEC on behalf of the Government of SVG.
The Solar Power Plant displaces 320,000 litres of diesel fuel per year at savings of EC$500,000.00.