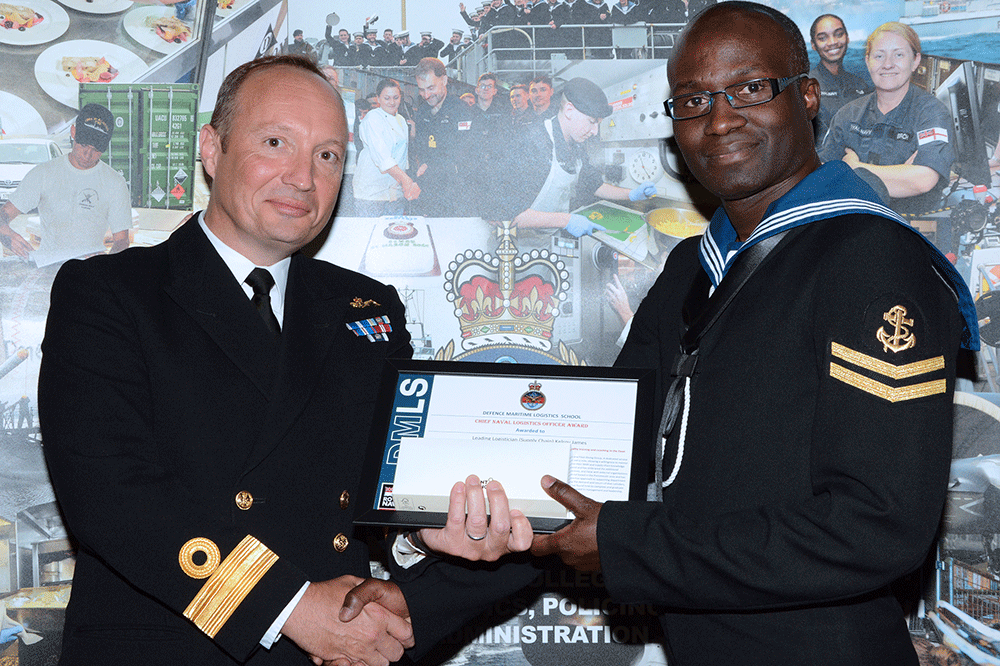 Press Release
July 18, 2018
Top Award for Vincentian Navy Sailor
A Royal Navy sailor from Kingstown, St Vincent, has been presented with a top award in recognition of his dedicated service.
Leading Hand Kelroy James was presented with the Chief Naval Logistics Officer Award at the annual Defence Maritime Logistics School (DMLS) award ceremony held at HMS Raleigh, in the UK. The prize is awarded to a member of the Logistics branch who has made a significant contribution to delivering or promoting high quality training and coaching in the Fleet.
The 42-year-old currently serves as the Assistant Fleet Stores Logistics Co-Ordinator and is responsible for maintaining 24/7 365 global supply chain operational capability for all ships and submarines.
His citation says: "A dedicated service person, he delivers support to a wide range of customers and consistently achieves results. LSC James regularly goes the extra mile, showing a willingness to mentor peers and subordinates and supports their continuing professional development through instruction seeking to improve their supply chain knowledge."
Kelroy said: "I believe that you learn the best by teaching others. The Royal Navy depends on different branches working together as a team, and the logistics branch support and maintains all other functions. Thus, helping others understand logistics processes and procedures not only makes the teams operate more effectively, it also makes my job more rewarding."
Since joining the Royal Navy 10 years ago Kelroy has served at the Royal Naval Air Station Culdrose, HMS Neptune in Scotland and been part of the Fleet Diving Squadron in Portsmouth. He has served at sea on HMS Campbeltown and abroad in Bahrain, Belgium and the Falkland Islands.
Kelroy describes winning this award as one of the highlights of his career. Other high points include working in Belgium and deployments to Latvia, Ukraine, Guam, California, Estonia and Iceland with the Fleet Diving Squadron. Kelroy has also represented the Royal Navy at Wimbledon as a Service steward and completed a Logistics and Operations management degree during his career so far.
A total of 36 individuals were recognised at this year's award ceremony. Commander Suzi Neilson, the Commandant of the DMLS, said: "The awards today not only reflect the achievements of the DMLS students and our staff, but there are others that are contested for across the entire Branch. These individuals have continued to go from strength to strength after leaving the DMLS and are clearly excelling in their professional careers."
Although based at HMS Raleigh, the DMLS is part of the wider Defence College of Logistics, Policing and Administration, and provides training to all Officers and Ratings of the Logistics specialisation including catering services, supply chain and personnel administration. In addition to providing training to the Royal Navy, the DMLS trains members of the Royal Naval Reserve, Royal Fleet Auxiliary personnel and the Sea Cadet Corps.