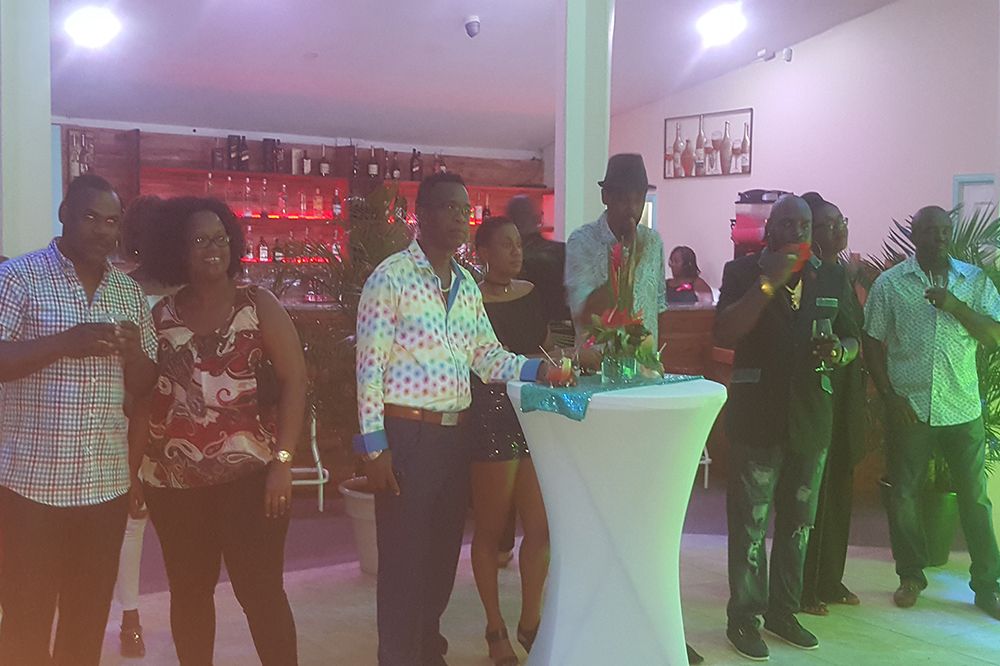 Press Release
September 5, 2017
Vogue restaurant, bar and club opens doors to customers
The restaurant, bar and club scene received a boost over the weekend with the opening of Vogue.
Vogue, based at the Diamond Industrial Estate in the building that partygoers would know as Octagon, had a soft opening last Saturday night and gave patrons a taste of what they can expect.
Speaking about the venture, one of the owners, Laverne Velox, said it was her lifelong dream to open a business of this nature and this dream has finally come true, with the help of her long-time friend Davon "Basics" Cato. The other shareholders are Sheffield "Shef" Allick and Brian "Crazy" Samuel.
Velox said Vogue represents what's popular and fashionable and everyone is welcome to the space, which can cater to the palate, style of partying and drink preference of anyone.
"Vogue was just a name that came out; at first it was 'Essence' and then I said that sounds like something you put in cake; but then I came up with Vogue, because the way I look at it, Vogue is what is hot and happening and current and fresh," explained Velox, adding, "…This is how we see Vogue, because going forward, we are going to be adding different dimensions to it, so that people would always be interested in what we are doing."
Vogue officially opens this coming Saturday, September 9, with a fete event that will feature artistes like Rondy "Luta" McIntosh and Shertz "Problem Child" James, but during the week, the establishment will operate as a bar and restaurant with numerous dishes and beverages to choose from. 
Patrons may utilize Vogue from 10 a.m. Monday to Saturday. The doors close after the last flight lands at the nearby Argyle International Airport (AIA). Velox said the proximity to the AIA was a very pivotal part of the decision to open Vogue.
"I came here and sat for two weeks straight and looked at the flow of traffic and realized that a lot of people pass here and they can stop in and buy a meal, explained Velox, who revealed that Vogue is offering "dinner to go," where persons can call and pre-order food and have it delivered.
She said that the restaurant will be serving predominantly seafood (whatever seafood is in season).
On Friday night, barbecue and pizza will be the main dishes and on Saturdays, local food will be served. Saturday is also club night and certain Sundays will be used to celebrate occasions like Mother's Day.
"When we say local food, we mean local food, not salt fish, not smoke herring. We are talking about callaloo and crawfish, river lobster, that kind of stuff and pigtail and pelau…we don't want to do salt fish and smoke herring; we want to keep it local," explained Velox.
She said the venue is home to a barbecue pit and a pizza oven and persons will be allowed to build their own pizza.
"We are going to allow people to have options when it comes to their palate," noted Velox, who will use her expertise in the kitchen to spice up Vogue's menu, adding to the dishes served up by a professional chef.
"I come from a banking background, but I have been cooking all my life; it's a passion of mine and when you really reach a certain stage when cooking becomes a reflex action, when you are able to do it so easily, you don't think twice about it.
"I am not trained as a cook, but I have an A in cookery at A levels and I am a home cook, so I try to make food taste good," said Velox, who stressed that Vogue will not be cutting corners when it comes to its food.  
Velox, the former chief executive officer (CEO) at St Vincent Co-operative Bank (Penny Bank) said she took early retirement so that she could pursue her dream.
"When you have a few more productive years left, you have to pursue it so that you can do what you like. I hope that people would support us. I know it's a little off people's beaten track, but the ambience is great, the décor is great, the sound system is great, the bar is great, so why not.
"Vogue is what you want it to be," said Velox. The business has a lower section, which is as big as the main floor and Velox said that that part of the building is ideal for weddings and other functions.
"We invite everyone, we welcome everyone; this is not an elite place; it's a restaurant bar and nightclub where everyone is welcomed," said Velox.
Vogue currently employs six persons.(LC)