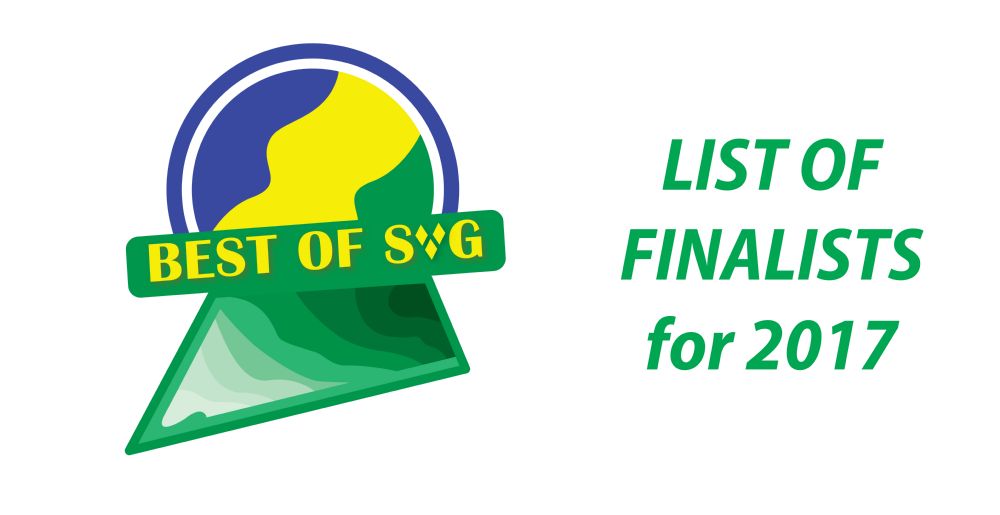 Press Release
April 21, 2017
Finalists in Best of SVG people's choice awards named
After six agonizing weeks of waiting, the names of the top three nominees in each category of the Best of SVG people's choice awards have been released by the Best of SVG auditors.
More than, or fewer than three nominees in a category indicates a tie in the top three for that category.
The nominees are not listed in any particular order.
The winners in each category will be announced at the Best of SVG awards ceremony on April 30, 2017, at the St Vincent and the Grenadines Community College Villa Campus.
CATEGORIES
FINALISTS
HEALTH & BEAUTY
Best Gym/Fitness Center
Fitness lab
Ronnie's Fitness Centre
Silvers Gym
Best Beauty Salon
Ella's Beauty Salon
Stylin Chic
Yvette's Beauty Salon
Best Natural Health & Beauty Products
Brioche
Jazzy's All Natural
Nature's Remedies*
Best Manicures
Bamboo Spa
Oasis Spa
Sonya John (Nailz Inc)*
Best Massages
Bamboo Spa
Oasis Spa
Onyx Spa
Best Pedicures
Bamboo Spa
Oasis Spa
Onyx Spa
Best Spa
Bamboo Spa
Oasis Spa
Onyx Spa
Best Barber
Clinty B Barbershop
Roy & Andy Barber Shop
Southie (Top Shotta)
Best Hair Stylist
Auldine Browne
Ella Cupid
Yvette Welcome
Best Make-Up Artist
Amirh Dennie
Auldine Browne
Kimeshia Llewellyn
Best Personal Trainer
Clint Roach
Colin Roach
Lindon James
Best Physiotherapist
Denis Byam
Dr Lennox Adams
Ronelle Grant-Matthias
Best Tattooist
Angus Lewis
Ink Dread
Lennox Tash Williams
Rohan Billingy
FOOD & DINING
Best Business Lunch
Basil's Bar & Restaurant
Cobblestone Inn
Rosemary & Thyme
Young Island Resort
Best Food Truck
Mac's Snacks
Mich & Cato's Sweet Spot
Famous Richies
Best Fast Food
Bickles
KFC
Subway
Best Fine Dining
Basil's Bar & Restaurant
Flow Wine Bar
French Verandah
Best All-Around Restaurant
French Verandah
Stop Light
Vee Jays
Best Bakery
Allan Smith's Bakery
Food Basket
Randy's Bakery
Best Sandwich Shop
Freddy's
Lola's
Subway
Best Meal Delivery
KFC
Lana's Kitchen
Subway
Best Meal for the Money
Double Happiness
Rosemary & Thyme
Spotlight Restaurant
Best Outdoor Dining
Café Soleil
Chill Spot
Flowt
Vee Jays
WHO MAKES THE BEST
Barbecue
Chill Spot
Punkie
Ricks Nicks (Demus)
Boul Joul
Phoenix Kitchen (Bigger Biggs)
Punkie
Stop Light
Vee Jay's
Callaloo
Inez Browne
Delano Dupont (Lano)
Lady J
Candies (sugar cakes, tamarind balls, etc)
Di-e Hinds (Building & Loan)
Roxanne*
Fish and Chips
Mich & Cato's Sweet Spot
Phoenix (Bigger Biggs)
Rick Nicks (Demus)
Green Seasoning
Erica's Country Style
Joy's Seasoning
Winfresh
Ice Cream
De Nobriga's
Frisko
Sam's
Local Beverage
Hairoun
Ju-c
Webb (school boy mauby)
Pelau
Eat Rite
Stop Light
Sunshine
Pepper Sauce
Bowmans
Erica's Country Style
Winfresh
Plantain Chips
Dawn's Chips
E&D
UD's
Roast Pork
Chill Spot
Punkie
Rick Nicks (Demus)
Seafood
Basil's Restaurant
Tree House Bar
Flow Wine Bar
Smoked/Dried Fish
Flow Wine Bar
Kingstown Fish Market
Tree House Bar
Souse
Gentle & Jasmine*
Madonna (Old Montrose)*
Vee Jays
Spices and Condiments
Erica's Country Style
Elvitas
HOME & FINANCE
Best Furniture Maker
Duncan's Furniture
Finishing and Furnishing (OT)
Leslie Edwards*
Best Home Designer
Aurin Bennett
Eloise Gonsalves
Fine Things
Leslie Edwards*

Best Floral Arrangements

Floranium Services
Margaret Leacock
Sharon DaSilva*
Best Cleaning Services
Allied Cleaning & Contractors (Carlos Maloney)
Howards Auto
Vincy Clean
Best Home Builder
Gairy's Construction
Gideon Browne Construction
Milton Mayers
Best Landscaper/ Gardener
Amblin (Edward Spence)
Creative Gardening (Ras John)
Nature Care SVG (Gideon Nash)
Best Real Estate Agent
AI Real Estate
ASL Real Estate
Caesar's Real Estate
Prime Real Estate
Best Upholstery
LA Unique Upholstery
Romeo's Upholstery
Roban's Upholstery
Best Security Services
Guardsman
Providence's
Premium
Beache & Associates
Best Drapery & Soft Furnishings
Fine Things
Romeo's Upholstery
Sharon Malcolm
VEHICLES
Best Auto Body Work
Maurice Bibby
Joyette's Auto
Red Dog
Best Auto Parts Dealer
Brewster's Auto Supplies
Cash Money
SVG General Services (Fly)
Best Mechanic
Ali's Garage
Maurice Bibby
Sekai
Red Dog
Frankie Dopwell
Best Passenger Van Service
Abdullah
Busta
Principal (#4914)
Toppa
Best Rental Vehicle Service
Ben's Auto Rental
Buck's Auto Rental
Ricky's Rental
Best Taxi Service
Jomo Taxi Service
Pop's Taxi
Red Fox Taxi Service
Best Trucking Service
Bullock's Trucking
Yankie Girl
PEOPLE
Best Bartender
Valando Harry (French Verandah)
Mr Murray*
Melanie Grant*
King*
George Lewis (Hi Lo Restaurant)
Best Waiter/Waitress
Mrs Laborde (Murray Heights)
Roxan Jacobs (Sunset Shores)
Robert Righteous*
Best Craft Maker
Nzimbu Browne
Merle Gellizeau
Scrapie Dopwell
Best Customer Service Representative
Adesha Peters*
Keisha Lynch*
Keisha Johnson*
Best Customs Broker
Perry's Shipping
Arabic*
Best Fashion Designer
Kimon Baptiste
Shernicia Mayers
Lisa Cordice (Poshelle)
Best Public Health Worker
Pinch Um
Grantley Constance (Ipa)
Best Graphic Artist
Kadmiel Crichton
Ken Dyer
Seymour Hinds
Best Police Officer
Rohan Dallaway
Renold Hadaway
PC 403 Nigel John
McLeon Williams
Sergeant Henry Providence
Best Public Relations/ Marketing Services
Ignite (Candice Sealey)
Shanique Herbert*
Best IT/Digital Services
Mavcom
IT Solutions
Computec
Best Seamstress
Kimon Baptiste
Patricia James (Pat Glow Fashions)
Cassandra Shortte*
Best Secretarial Services
Professional Secretarial Services
Best Sports Club
Avenues Sports Club
IT-DAT Sports Club
Sion Hill Sports Club
Best Tailor
Buck
Quashie (Bloc 2000)
Kenvil Williams
Best Teacher (Give School)
Aeisha Williams (EHSM)
Mrs Cassandra John (KPS)
Mrs Stoddard (KMS)*
Best Baker
Allan's Bakery
Anna Phillips
Kari DaSilva
Vincy Cake Girl (Amanda Vanloo)
Best Caterer
Clara Providence
Dawn Smith
Michele Harris
Best Chef
Akah
George Lewis*
Mr Little*
Best Undertaker
Ever Ready Funeral Home (Mills)
New Haven Funeral Home
Best Community Group
La Gracia Dance Company
Sion Hill
Cane Grove Neighbourhood Watch
Belfongo
Best Web Designer
Seymour Hinds
Grantley Williams
Kishore Shallow
Best Tour Guide
Coreas
Daddy Tours
Ron Jackson
Ian John
Best Commercial Photographer
Calvert Jones
Edson Reece (E-Images)
Regis Splectron
Best Event Planner
Exquisite Events
Fanfare Events
Joche Moments (La Toya DeRoche-John)
Best Jewellery Maker
Keystone Jewelry
St Vincent Jewelry (Denzil Bacchus)
Scrapie Dopwell
LEISURE & ENTERTAINMENT
Best Calypso Singer
Alston 'Becket' Cyrus
Zamphir 'Man Zangi' Adams
Fitzroy 'Brother Ebony' Joseph
Best Carnival Mas Band
Adrenaline
Blondie Bird
SVG Players International
Best Disc Jockey
DJ Taurus
DJ Kano
Chemical X
Shane Husbands (Hypa 4000)
2 Kool Chris
Best Entertainer
Delroy 'Fireman' Hooper
Rondy 'Luta' McIntosh
Shevrille 'Candy Man' McMillan
Best Soca Artiste
Delroy 'Fireman' Hooper
Gamal 'Skinny Fabulous' Doyle
Rondy 'Luta' McIntosh
Best Steel Band
Sion Hill Euponium
Starlift Steel Orchestra
South East Steel Orchestra
Best Steel Pan Player
Jomoro Francis
Rodney Small
Saeed Bowman
Best Gospel Artiste
Bridget Blucher
Stacy Little
Fenton Harry
Best Night Club
Huffles Ranch
Mario's Ranch
Tree House Bar
Best Comedian
Gloria Williams
Shevrille 'Candy Man' McMillan
Maurice Horne
Best Event Rentals
Exquisite Events
Fanfare Events
Skinny Playtime
Best Wedding Venue
Botanic Gardens
Spring Garden Estate
Young Island Resort
Best Place to Have a Birthday Party
Back Yard Adventures
Black Point Recreation Site
Signature Bar & Lounge
Best Happy Hour
Chillin
French Verandah
Tree House Bar
Best Rum Shop
Connell's Rum Shop
Dougan's Bar
Yankie Bar
Mikey's (Mesopotamia)
Best Karaoke Venue
Chill Spot
Dougan's Bar
Huffles Ranch
PLACES & TOURS
Best Customer Service
Digicel
Payless Shoe Store
VINLEC
Best Land Tours
Coreas Tours
Daddy Tours
Sailor's Wilderness Tours
Best Marine Tours
Dive St Vincent
Fantasea Tours
Sky Flirt
Best Scuba Diving Services
Indigo Dive
Fantasea Tours
Dive St Vincent
Best Tourist Attraction
Botanic Gardens
Dark View Falls
La Soufrière
Best Place to Worship
Faith Temple Church
Harvest Bible Chaple
Kingstown Methodist Church
Best Place to Work
Milton Cato Memorial Hospital
The Public Service (Government)
The Electoral Office
Coreas and Hazells Inc
Best Pre-School
Faith Temple Pre-School
Imani Pre-School
Vinsave
Best Primary School
Kingstown Preparatory
Lowmans Leeward Anglican
St Mary's Roman Catholic
Best Secondary School
Girls'High School
St Joseph's Convent Kingstown
St Vincent Grammar School
Best Charity
Mustique Charitable Trust
Salvation Army
Best Beach
Mt Wynne
Villa
Questelles
Best Community
Recreational Area
Black Point
Rawacou
Owia Salt Pond
MEDIA
Best Radio Personality
Desmond Arrindell
2 Kool Chris
Candy Man
Best Newspaper Columnist
Adrian Fraser
Bassy Alexander
Renwick Rose
Best Social Media Personality
Asberth Williams
Kenton Chance
Randy Sparta
Best TV Personality
LaFerne Fraser
Jennifer Richardson
Sheron Garraway
We would be grateful for the contact information for these persons. Message us on Facebook (www.facebook.com/BestofSVG) or call 456-1558