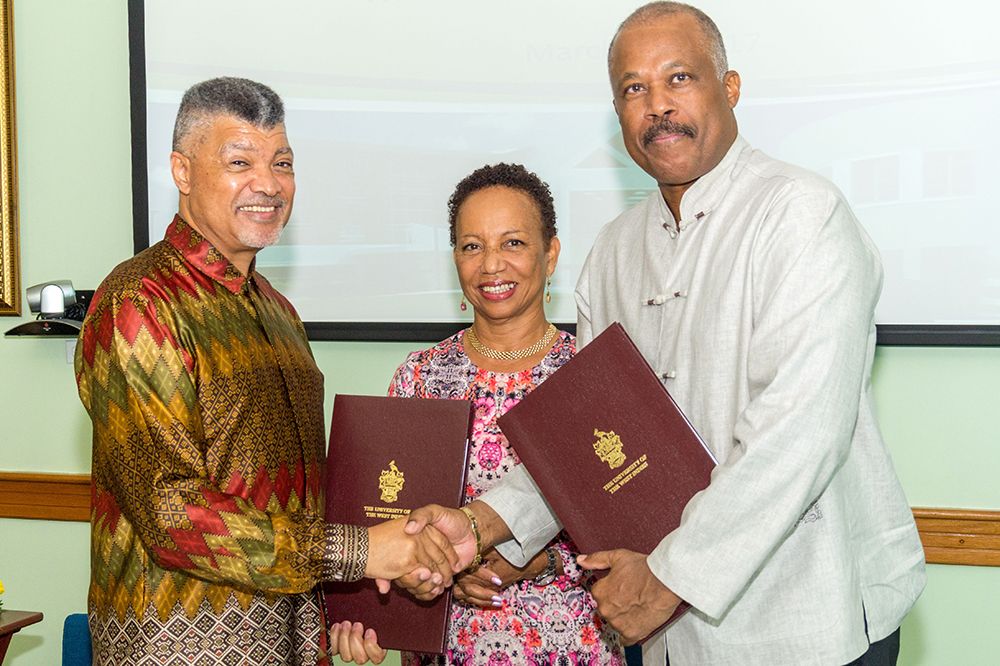 Press Release
April 5, 2017
The UWI partners with South Africa's University of Johannesburg to establish Institute for Global Africa Affairs
The UWI Regional Headquarters, Jamaica. 05 April 2017
—The University of the West Indies and the University of Johannesburg (UJ) in South Africa have signed a Memorandum of Agreement for the establishment of an Institute for Global Africa Affairs, which will focus on research and policy development and assist with curriculum development.
The agreement was initialled on Monday, March 27, 2017 by The UWI Vice-Chancellor, Professor Sir Hilary Beckles and Vice-Chancellor and Principal of the UJ, Professor Ihron Rensburg.
The institute, to be managed by a board of directors, will operate at both universities and facilitate the exchange of professors and students.
It will examine a number of issues pertinent to both regions, including economic development, entrepreneurship, post-colonial governance, climate change, and youth and their identity.
Commenting on the partnership, Sir Hilary said that it presents a tremendous opportunity to share intellectual content.
"We are creating a jointly owned and managed institution to bring some of the finest thinking and research of the two universities together so as to participate in changing the conversations about sustainable development in this long 21st century," he said, following the signing of the agreement at The UWI, Cave Hill campus in Barbados.
He further explained, "There are going to be dozens of courses that are currently offered at UJ that will be of special interest to our students at The UWI so that we are now in position to have access to some of those programmes and, of course, there will be programmes on our side that we have developed and tested and proven that students at UJ might be interested in and we have the Open Campus that will enable that content to move between the various universities."
The UJ Vice-Chancellor anticipates that a joint master's degree in Global Africa Studies would be introduced in a few months to be followed by a joint PhD programme.
"The conversation brought us to focus on what the new Africa and the new African should be grappling with, what our responsibilities would be as the two universities, in particular, as we put together this new Pan African joint institute between ourselves. We're deeply convinced that the manner in which industrialisation has proceeded, certainly the evolution of our continent over the last two generations cannot be repeated," said Professor Rensburg.
Pro Vice-Chancellor and Principal of The UWI, Cave Hill campus, Professor V. Eudine Barriteau who was present for the signing, expects that arising from the collaboration, Caribbean students will be better equipped with African knowledge that can guide Caribbean development.
"I think it is so critical to expose our students to African knowledge systems, both in the contemporary and historic sense, and to shift them from an understanding that knowledge is produced in the North. So they will have exposure to the literature, to the economic theories, to African feminist thought. In other words, (there is) a whole body of African epistemology and knowledge that our students will now be exposed to," she said.
Prior to the signing of the MOA, Vice-Chancellor Rensburg delivered a public lecture titled: Global Africa—Imagining a New Future. A recorded stream of the lecture can be viewed https://www.uwitv.org/publ/global-africa-imagining-new-future-public-lecture-2.
Other members of the visiting seven-member UJ team included: Professor Andre Swart, Executive Dean, Faculty of Health Sciences; Professor Letlhokwa Mpedi, Executive Dean, Faculty of Law; Professor Cheryl Hendricks, Professor and Head of Department of Politics and International Relations, Faculty of Humanities, Professor Chris Landsberg, Professor (SARChi Chair), African Diplomacy and Foreign Policy, Professor Adekeye Adebajo, Director, Institute for Pan African Thoughts and Conversation; and Dr Pinkie Mekgwe, Executive Director, Division for Internationalisation.