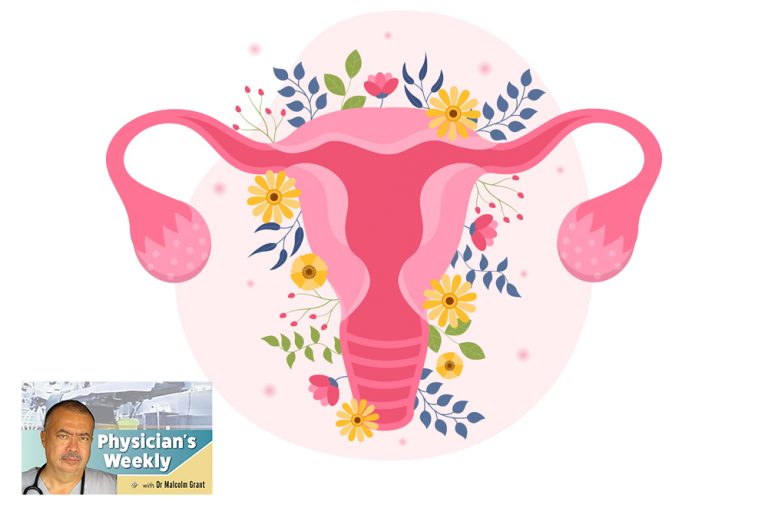 Physician's Weekly
February 3, 2023
Recent developments in cancer research – Endometrial Cancer
This is the sixth in a series of instalments devoted to breakthroughs for the more common, solid and blood cancers; this week is dedicated to endometrial cancer (EC).
The endometrium, the inner epithelial and mucous lining of the womb (uterus), progressively thickens over the course of a lady's (menstrual) cycle. Once there is no implantation of a fertilised egg (an embryo), it is shed about 14 days after ovulation when it is at its thickest. This is generally referred to as the period.
The endometrium is extremely important for human existence; without it a viable full-term pregnancy would not be possible. Most women shed their endometrium approximately 450 times during their reproductive life. A woman spends a combined total of 8-10 years menstruating.
EC is the most common type of gynaecological cancer in many countries. About 1 in 30 women will develop EC. It is almost exclusively found in post-menopausal women. EC is often called uterine cancer. Endometrioid adenocarcinoma accounts for 75-80% of uterine cancers and non- endometrioid uterine cancers (eg. clear cell, serous, carcinosarcoma, adenosquamous, etc.) make up the remainder. The former has an excellent prognosis, whereas the latter is more aggressive and more likely to spread, therefore having a less favourable prognosis.
Prior to the development of EC, the endometrial cells undergo precancerous changes. Once detected EC can be averted. All women after menopause with any spotting or vaginal discharge should consult a medical professional, preferably a gynaecologist. 90% of women with EC have abnormal vaginal bleeding. The diagnosis of EC can only be confirmed via the histological (microscopic) examination of tissue collected from the womb's lining.
Factors that increase a woman's chances of developing EC include advancing age, with the majority of cases of EC occurring in postmenopausal women, high circulating oestrogen levels, being 30 pounds or more overweight, family history of EC, type 2 diabetes, high animal fat diet, sedentary lifestyle, early onset of menstruation (menarche), starting menopause at an older age, polycystic ovarian syndrome (PCOS), tamoxifen, never being pregnant, a history of breast or ovarian cancer, and previous pelvic radiation treatment.
The following are associated with a reduced risk of developing EC:
IUD, oral contraceptive pill, pregnancy, regular exercise, and diets high in the intake of vegetables, legumes, fruit, and whole grains.
Recent discoveries and advancements regarding EC:
A significant advancement in managing EC is the development of tests identifying its unique molecular subtypes – there are four. By determining such the patient can be given treatment that is tailored to their distinctive subtype. Allowing the doctor to adjust the type and strength of the treatment used, respectively. Ultimately minimizing the recurrence of the EC post-treatment.
The National Cancer Institute (USA) is currently undertaking a study comparing different cocktails of immunotherapy in order to determine which treatment regime is most effective in treating a recurrent and advanced subtype of EC.
Lenvatinib, a targeted therapy, has recently been approved by the FDA to be used with an immunotherapeutic agent (pembrolizumab) for certain cases of advanced and unresponsive EC.
Researchers are currently looking into the effectiveness of combining pembrolizumab with radiation therapy to treat some subtypes of early-stage EC.
There are studies that are looking at the effectiveness and by extension need for radiation in women with locally advanced EC.
Recently diagnosed uterine cancer patients should attend their doctor with a close family member or friend, and below are some questions that need to be asked:
What type of uterine cancer do I have?
Has the cancer spread? What is the stage? What is the prognosis?
What are all the treatment options? Are all available locally? If not, what's not?
Should molecular profiling be done before specific treatment is carried out?
What are the goals and likely success of my treatment?
Will treatment affect my sex life?
Can copies of all the reports be provided?
Is there any additional treatment that can be beneficial even if it means having to travel or pay to bring it into the country?
Are other doctors going to be involved in my treatment?
What are the possible side effects of the proposed treatments?
Is a second opinion locally or overseas recommended or worth pursuing?
Non-Hodgkins Lymphoma will be covered next Friday.
Author: Dr. C. Malcolm Grant – Family Physician, c/o Family Care Clinic, Arnos Vale, www.familycaresvg.com, [email protected], 1(784)570-9300 (Office), 1(784)455-0376 (WhatsApp)
Disclaimer: The information provided in the above article is for educational purposes only and does not substitute for professional medical advice. Please consult a medical professional or healthcare provider if you are seeking medical advice, diagnoses, or treatment. Dr. C. Malcolm Grant, Family Care Clinic or The Searchlight Newspaper or their associates, respectively, are not liable for risks or issues associated with using or acting upon the information provided above.