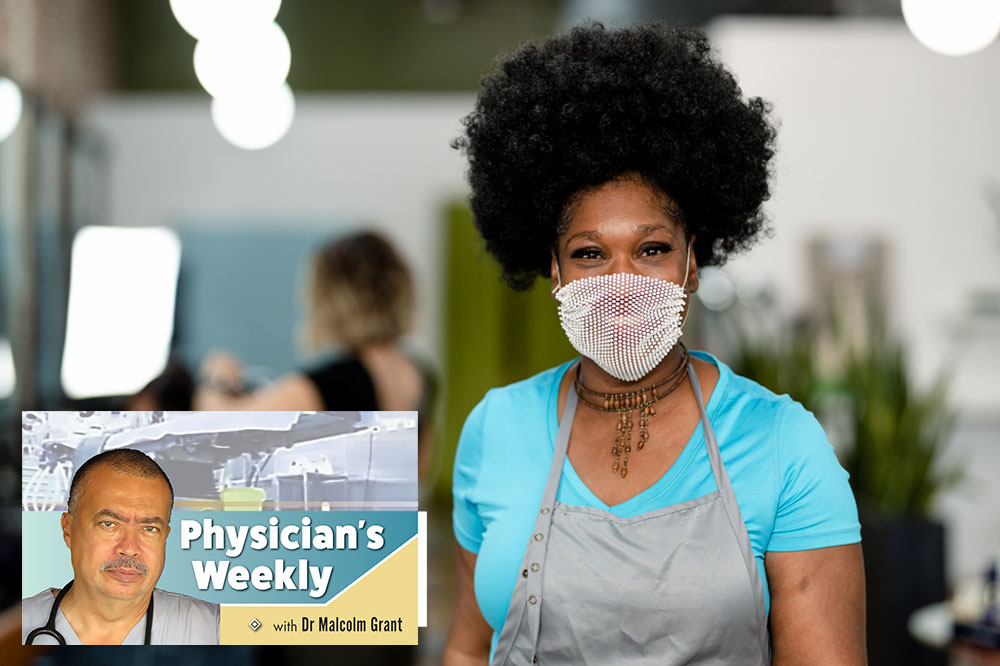 Physician's Weekly
September 30, 2022
Health Challenges of the Beauty Salon Workers
Beauty salon workers include the hairdresser, makeup artist, nail technician, esthetician, colorist, cosmetologist, barber, stylist, masseur, and receptionist. A salon worker may perform multiple roles.
Salon workers are often exposed to hazardous chemicals which can result in skin, eye, and respiratory tract irritation, and in some serious illnesses and even death.
Many of the products used in salons have been deemed safe for customers, however, there has been little research on the health consequences to salon workers. Below I've shared my findings.
The ingredients in salon products of greatest concern are:
Formaldehyde
Acetone
Toulene
Paraform
Ammonia
Ethyl acetate
Xylene
Others
Studies have shown that salon workers have up to 10 times the concentration of many of these chemicals in their bloodstream when compared to the general population. The consequences of such are generally not apparent for years. Complications may arise long after the person is no longer working with the chemicals.
Salon workers are also exposed to a number of infectious agents as a result of working in close proximity to their clients.
Skin & Eye Conditions found commonly in salon workers:
Skin and eye irritation
Eczema – especially of the hands and forearms
Conjunctivitis
Herpes 1 & 2
Warts
Staphylococcus skin infections
Hepatitis B & C from pedicures and manicures
Fungal infections of the nails and skin
Exposure to STDs when performing waxing
Exposure to products that contain endocrine disrupting chemicals can cause:
Infertility
Low birth weight and pre-term babies
Birth defects – e.g. cleft lips/ palates
Respiratory Illnesses
Occupational asthma is more common due to exposure to acrylic nail filings
Reduced lung function – especially in hairdressers and nail technicians
Chronic cough
Nasal congestion
Cancers – Salon workers have an increased chance of developing the following types of cancers:
Breast
Lung
Nasal passage
Throat
Bladder
Multiple Myeloma
Hodgkin's disease
Other
Salon workers often experience headaches while at work
Many report lightheadedness and difficulty concentrating
Depression – often reported by those who texturize hair
Dementia, especially in nail technicians and hair stylists
Motor neuron disease, especially in hairdressers
Lupus and liver cirrhosis are more common in nail technicians
Uterine fibroids, especially those working with hair relaxers
Prolonged standing increases the risk of venous insufficiency of the legs
Pains in the neck, shoulders, lower back & knees
In order to reduce the health hazards of beauty salon workers, it is recommended:
Use less toxic products
Workers use gloves and wear masks at all times when at work
Optimum ventilation of workspace
Use pump spays wherever possible, as opposed to aerosol sprays
Tightly close products after use
Dispose of waste properly in bins with tight lids
Hand cleanliness should be emphasized
Use as little product as possible when performing services
Research all products before using. Many products labeled "containing no harsh chemicals" or "formaldehyde free" were mislabelled.
Only use trusted products from reputable sources.
Salon's air filters should be replaced in a timely manner
Improve education of salon workers regarding correct product handling
Continuous professional education is encouraged
Government institute import restrictions on toxic beauty salon products
Author's Contact Information: Dr. C. Malcolm Grant, Family Care Clinic, Arnos Vale, [email protected], 1(784)570-9300 (Office), 1(784)455-0376 (WhatsApp)
Disclaimer: The information provided in the above article is for educational purposes only and does not substitute for professional medical advice. Please consult a medical professional or healthcare provider if you are seeking medical advice, diagnosis, or treatment. Dr. C. Malcolm Grant, Family Care Clinic or The Searchlight Newspaper or their associates, respectively, are not liable for risks or issues associated with using or acting upon the information provided