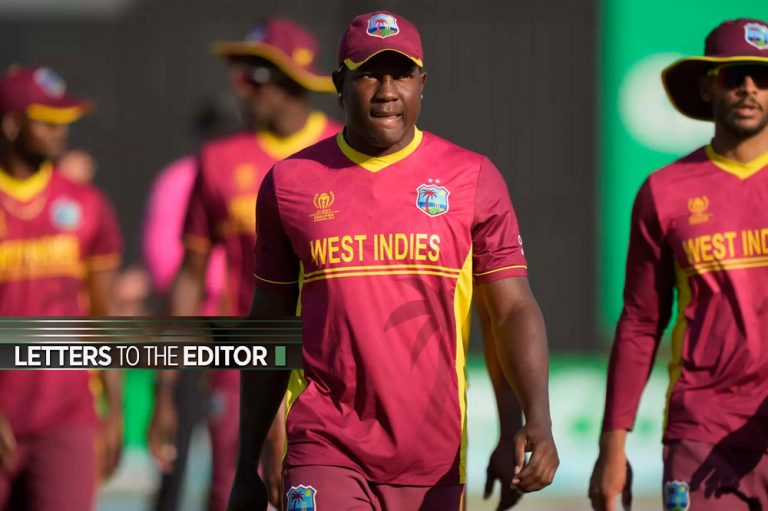 Our Readers' Opinions
July 14, 2023
West Indies team has broken our hearts
EDITOR: West Indies cricket team has broken the hearts of many loyal cricket fans. Many have cried and feel saddened. It was indeed a sad day when West Indies team failed to defend a mammoth total of 374 against an associate team. Many fans felt disappointed and embarrassed. But it was even more sad when they could not even bat their allotted fifty overs against Scotland and subsequently lost the match and failed to qualify for a spot in the upcoming world cup.
Over the years much has been said about the West Indies cricket team and many changes have taken place, yet we have played our worst cricket ever. We have sunk so low that the only way is up. This I believe will take place.
It baffles me to see the way the players fielded. They seemed to be at a loss and in some cases appeared to be in another world. They were the worst team in terms of fielding and catching. For the life of me I can't understand how consistently the players dropped catches. Indeed the team did not seem to be unified, and the captain is still developing. While we cannot be too hard on captain Shai Hope, we have to agree that some bad decisions were made at critical times and field placements in some cases were questionable and even bowling changes.
I am still lost as to why in a crucial moment when the opponents needed 30 runs to win from two overs, the captain gave CHASE the ball to bowl in that important 49th over, where he conceded 21 runs. We should have never lost that match, and we should have never reached to the point of a super over, which again is another story worth investigating. Were the players really interested in winning?
In going forward it is important that from the under 15 up that proper coaching be done and these young cricketers made aware of what it brings to the Caribbean when the West Indies wins. I am recommending that proper coaching to be done in these lower levels and also an improve format where these young cricketers not only play one day games but have youth cricket played over three to four days so that they can develop their skills.
We have to rise again and so the rebuilding process is important. Let us hope that the test team would bring some smiles and joy to us in the Caribbean and beyond. I, therefore strongly recommend a drastic change to the team by playing almost a new team with some young players.
We also need to change our cricket mentality from just believing that entertainment with big hitting is what the game is all about.
Let us not lose faith but let us hope for the better. After all, the only way we can go is up.
Kennard King