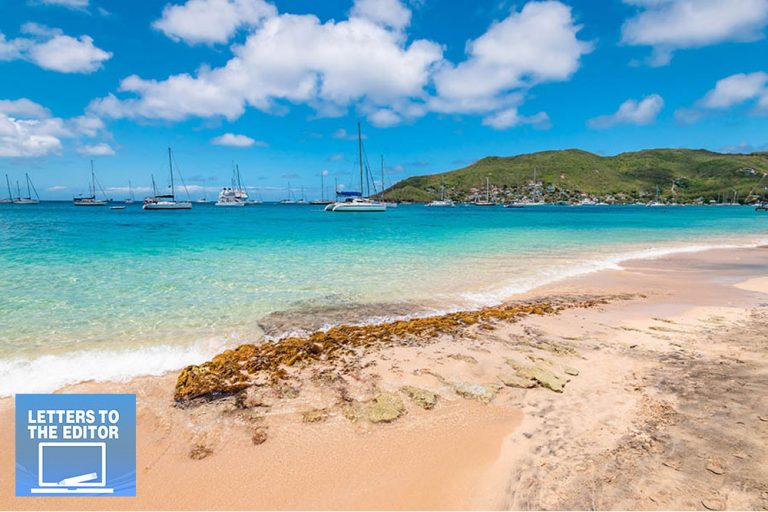 Our Readers' Opinions
April 21, 2023
All hands on deck to maintain our beaches
EDITOR: Second only to our people, our beaches are our most important natural tourism product. Consequently, we need to budget resources of finance and personnel to conserve, preserve and beautify them for our own enjoyment and that of our visitors. The assault on our beaches by the sargassum weeds means that additional volunteer help would be needed in each community to maintain our beaches. A cooperative effort by everyone is needed to accomplish the task of making the beaches what we want them to be.
From the Government's perspective, the sanitation workers can devote one day per week to clean, maintain, and beautify our beaches. This should incur minimal additional costs. The Agriculture department can supply seedlings of sea grapes, cedar, almond, tamarind, mangrove, flowers, and other suitable plants that are adapted to grow in salty conditions, to be planted on the shoreline. The hotels too can devote a minimum of one day per week to maintain the beaches. Private land owners can take an interest in maintaining the beach bordering their properties. Schools, churches, and community groups can play their role by adopting a beach for special attention. Some countries charge a fee to use the beach so, in lieu of fees, some role must be assigned to individuals who use the beach so that they can contribute to the upkeep of the beach.
Climate change with its resulting sea level rise has caused beach erosion in some areas, and protective measures should be taken if we are to keep our beaches.
Some private home owners have spent much in beach protection and should be given technical support so that the best practices are adopted. Sometimes it may become necessary to replace sand removed by storms.
The attempt by a hotel in Canouan to dispose of its waste elsewhere might have been an effort to prevent beach contamination with sewage. We need to take this issue seriously and ensure that waste is processed away from our beaches. Our waters must be tested regularly for safety.
Our watersheds should be managed in such a way that our soil is not washed into the sea to spoil our beaches. Contouring, terracing, strip cropping, and adequate forest management will help. Individuals need to know what they must do on their properties to accomplish this.
Some of our beaches are protected by coral reefs and every effort must be made to ensure that the reefs are healthy to perform this task.
Appropriate facilities are needed at the beaches that are used often. With some organization, we can make all our beaches beautiful and our recreation experiences on them enjoyable.
Anthony G. Stewart, PhD