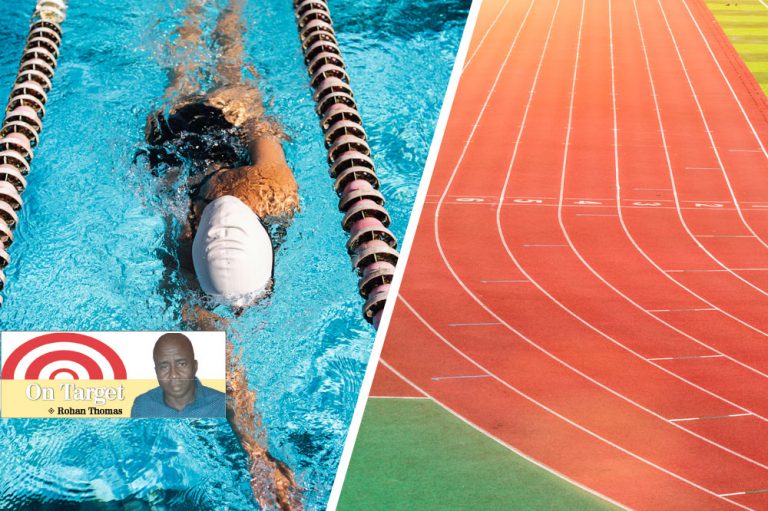 Contextualising our current position in Sports
St Vincent and the Grenadines continues to hold its own regionally in Swimming at the Carifta Aquatic Championships, and in the Track and Field scene, namely at the annual Junior Carifta Games.
The 2023 editions of these events were staged over the Easter weekend in Curacao and the Bahamas, respectively.
Swimming showed up once more making it nine straight occasions that St Vincent and the Grenadines was winning at least one medal. This time around, the young swimmers went one better than 2022, copping four medals- three silver and one bronze.
The stand out was Tayeah St Hillaire who got two silver and a bronze, with Zariel Nelson gaining a silver. St Hillaire who swam in the Girls 11-12, broke three national records and achieved personal bests, while Nelson also achieved personal best in her medal event.
At the Thomas .A. Robinson venue in Nassau, Bahamas, one bronze medal from Amal Glasgow was Athletics' take from this year's showing.
As it stood, it was a big dip from the performance of 2022, when five track and field medals were pouched.
Like swimming, track and field offered some glimpses of hope, with a few fourth places, some athletes reaching finals, while some achieved their personal bests.
How can these latter encouraging efforts be translated into medals in future championships?
Similarly, how can our swimmers maintain the trend of at least medalling at Carifta?
Evidently, with the presence of the Shrewsbury Aquatic Centre and most recently, the establishment of the Diamond Track, good performances and medal (s) are almost assured.
Putting our local sporting landscape into proper perspective, it can be deemed commendable for our young sportsmen and sportswomen to give that type of effort with some level of consistency.
This is against the backdrop that there is no system of funding from government or the private sector, that assures proper preparation of our budding sports people.
Both entities somewhat have missed the trick, and are only interested in when medals are pouched, so they can get their media moments and an outlet to spout their rhetoric.
However, one has to stop and come to reality that the economy of St Vincent and the Grenadines is akin to a "su-su", hence there is not much extra money to spare in the form of sponsorship for sports.
Notwithstanding, ingrained in the current Vincentian culture is that political divide which is a hindrance to the development of sports and almost every other sphere.
Overall though, as people, sports is generally viewed as fun and games, recreation, and a period to past time.
While this may be understood, from the stand point of ignorance and the manner in which we have been cultured, the power brokers and policy makers have let the status quo remain.
But as we ponder on the immediate future and the possibilities that are on offer to our swimmers and track and field athletes, the most viable option is to maximise at the levels that our youthful sportsmen and sportswomen are operating.
Hence, realism must take precedence over expectations as acknowledging our status and capabilities are paramount.
Getting medals at the two Carifta undertakings and other regional championships are our most desirable and acceptable routes at this juncture.
Therefore, producing persons who are able to compete at these levels has to be the development pathway.
The continuum then should take shape and progression to the wider sporting world, must follow.
The onus then has to be on the respective organisations- the SVG Swimming Federation, and Team Athletics SVG, to craft a pathway that ensures sustainability of the various programmes.
Critically, there has to be some government mechanism in place to finance those budding sportsmen and sportswomen with their training, travel, medical and nutrition.
This is in light of the detour path being taken by the National Lotteries Authority which has shifted its mandate, and sports is seemingly, no longer one of its main priorities.
The potential of the nation's youth sporting stock must be harnessed with renewed interest as they must know that others have their backs.
Seeking every avenue to keep them on the straight and narrow has to be the task for everyone who understands the significance of sports as part of national development.