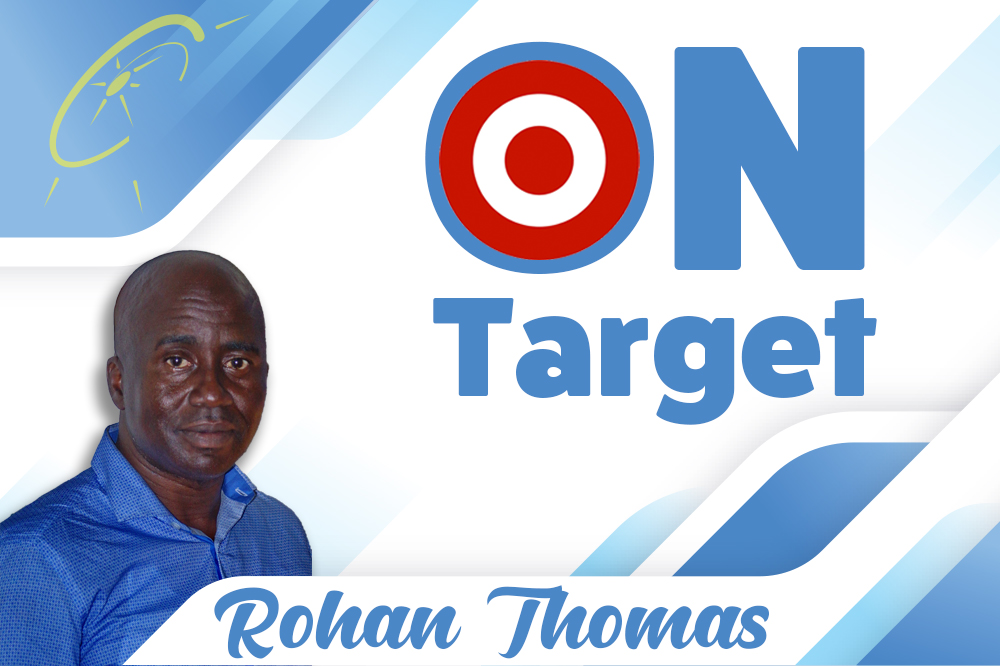 On Target
November 4, 2022
Keylee joining the list of Sports Ambassadors is well deserved
When it was made public on Thursday, October 27, 2022 that Karl Woodrow " Keylee" Williams was named as one of two of St Vincent and the Grenadines' newest Sports Ambassadors, there was that overwhelming nod of unanimity.
Williams was announced alongside West Indies cricketer- Obed Mc Coy.
For many it was long overdue for Williams to have such an honour bestowed on him; however, what is most important is that it was merited.
Uncharacteristically though, for those who know Williams well, he is not one who fancies the spotlight, neither does he crave attention and accolades.
For Williams, what he does for St Vincent and the Grenadines matters most; the lives he impacts, the knowledge he imparts to others and making people's well being better, are the dearest to his heart.
That is nature of the man who was last Thursday given the status of Sporting Ambassador.
The backdrop of Williams' recognition has been the several accomplishments he has racked up, that have set him apart from others.
As such, the sometimes-unassuming Williams can be considered one of St Vincent and the Grenadines' walking sports encyclopedia; a repository for many aspects of local sporting history, a national treasure, a diplomat, as well as a man replete with poise, dignity and integrity.
When one turns the pages of his life, it was obvious that he was born to make sports and community providence his forte.
Williams' prowess and early signs of being sports oriented, began in the 1970s, during his school life.
He played Cricket, Football, Table Tennis, with his major love being Athletics. As an athlete, Williams excelled in the Long, High and Triple Jumps. The latter he mastered and was among few young Vincentians at the time to be adept at the relatively difficult undertaking.
These, he took into his adult life, and began teaching Track and Field, both at his alma mater, the St Martin's Secondary School and as a sports officer, within the Ministry of Sports.
Diverse in his abilities, Williams, among other things is an IAAF( now World Athletics) qualified coach; a certified Special Olympics Coach; a Cricket scorer, starter, timekeeper; sports administrator; commentator; radio host; National Sports Awards adjudicator; fitness trainer and Track and Field selector.
Additionally, Williams is a certified lecturer and the holder of a Diploma in the coaching of jumps.
On the side of administration, Williams was the Chef de Mission, when St Vincent and the Grenadines made its debut at the Olympic Games, held in Seoul, South Korea in 1988.
A humble servant to sports in St Vincent and the Grenadines for over five decades, given some of the aforementioned expertise, Williams arguably has no match, as he has given yeoman effort at the levels of school, community, civil life and whose expertise has been exported regionally.
Considered one of the most trained technical officials in St Vincent and the Grenadines, Williams' speciality is in the field events, namely the multi events.
Having cut his teeth in the 1970s as an official at local Track and Field meets, Williams has gone on to several meets in the Caribbean and Central America.
He has officiated at ten Junior Carifta Games; the NACAC Age Group Championships; the Commonwealth Youth Games; the Trinidad and Tobago National Open Championships; and the NACAC Senior Championships, just to mention some of his overseas exploits.
Outside of the sporting arena, Williams has left his mark on the area of mas, calypso and steel pan, adding other dimensions to his full life as a national asset.
Critically, despite these achievements, milestones and national contributions, Williams has remained humble, often times misconstrued as being "too soft".
It is without gainsaying that thanks to Williams, St Vincent and the Grenadines is better off when it comes to sports, thanks to his involvement, input and knowledge sharing.
No one can devalue or deny that Karl Woodrow Williams has made a difference to Vincentian sports, the cultural landscape, and to humanity.