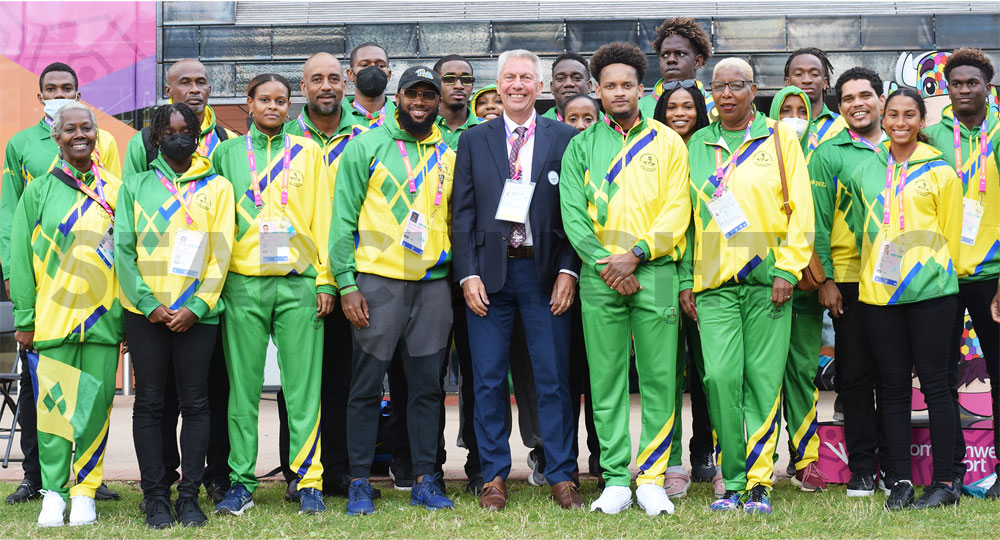 On Target
August 12, 2022
Time to make an impression
St Vincent and the Grenadines added another tick to its participation at the XXII Commonwealth Games which took place in Birmingham, England, July 28 to August 8.
It was the country's 13th time attending the Games, which dates back to 1958.
At the most recent hosting, St Vincent and the Grenadines had entries in five disciplines: Aquatics (Swimming), Cycling, Squash, Table Tennis and Track and Field.
Of course, we are aware that no medals were attained and only one athlete reached the final of an event.
A summary of the Vincentian team's performance would show that the swimmers topped the list, as all six representatives were able to attain their personal bests in at least one event. Notably, there were national records among the lot.
Second to the swimmers' returns, was that triple jumper Mikiesha Welcome was able to stay in the last eight of the Women's Triple Jump.
Welcome finished seventh. This can be deemed commendable in the context of Vincentian achievements at that level of exposure on the wider competitive stage.
Of note too, was that a Track athlete, was able to achieve his Personal Best at the Games.
Again, applying the concept of relativity, then it must be said that our all-female Table Tennis players, made up of basically rookies, were not fazed by their more skillful and experienced opponents.
Likewise, in Cycling and Squash, the efforts of the Vincentians can also be placed in the column of fair.
But were the output of all 21 athletes their bests? Were their bests good enough and how long should we endure and be satisfied with our athletes giving of "their best"?
On the other side, can we envisage the day, that St Vincent and the Grenadines will justly say that we are worthy competitors at global sporting event?
This has to be answered soonest, as the status of participants will continue to be our tag and label for an extended period of time.
Then the work and decision-making processes must start at once, as the Commonwealth Games Association of St Vincent and the Grenadines is asked to take a closer and in-depth look at our participation at the multi-discipline event.
The notion that we are just good enough to be in heats and show flashes of brilliance, should soon be a thing of the past.
It is the task of the powers that be, to make things happen, rather than let them happen, for us to begin to make a dent on the Commonwealth Games
They have to be honest with some disciplines and some events, thus weigh up our chances of not only getting counted among the 72 countries that participate at the Commonwealth Games.
St Vincent and the Grenadines has to get its act together, as since its inception in 1958 (Empire Games), renamed the Commonwealth Games, has ingredients of being a friendly event.
However, there are indications that its profile is ever increasing and the "wash your foot and come" approach may soon go through the window and qualification standards may come into play.
Therefore, St Vincent and the Grenadines may well begin to prepare for this, should it come to fruition.
Hence we will have to sift out the best talent, with the best possibilities in mind, to attend the Games.
To do this, we have to get our house in order first. National sporting associations have to commence to fix quickly their various short comings before progress can be made, in terms of improved performances and eventually results.
We have also to sort out which disciplines our athletes are best suited, as well as look outside these shores for persons to
represent us.
At the recent Commonwealth Games, there were athletes of Vincentian heritage, who were either competing or officials of teams, thus, showing the magnitude of the spread.
Therefore, are we going to continuously rely on home grown talent to serve us, when history is showing us otherwise?
With a greater effort, this column is certain that there are many eligible Vincentians strewn around the globe, who possess the ability to make an impact on these global events, such as the Commonwealth Games.
It is doable, as we have seen our Windward Islands neighbours, St Lucia, Grenada and Dominica, are all making their presence felt at the Games.
We saw in Birmingham, that all three countries had podium finishers, leaving St Vincent and the Grenadines as the lone member of the grouping to cheer in solidarity and bask in their glory.
It is high time that we join them and be able to celebrate our own achievements.
To do so will not be a quick fix, but requires support in all quarters, inclusive of government placing sports as a central pillar of national development.
Sports is too impacting on the psyche and well -being of our people, but it is being treated as an outside child, in preference to the perceived productive sectors of our economy.