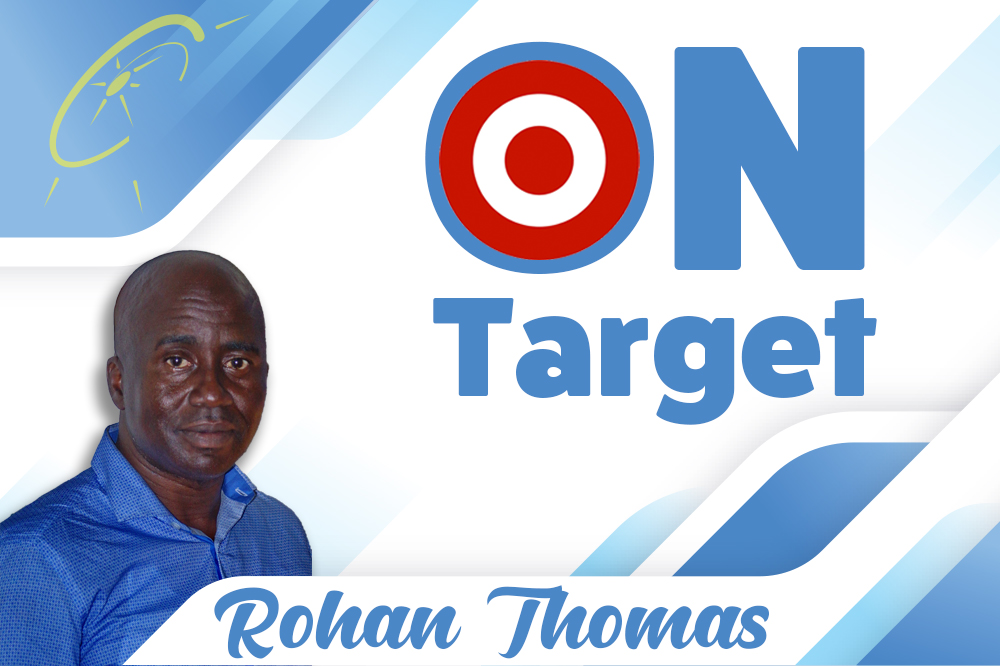 On Target
December 31, 2021
Making the best of the worst
Last year at this time many were hopeful that the coronavirus pandemic that halted sports the world over for the better part of 2020, would have eased off and be less restrictive on sporting activities.
To some extent, 2021 though globally offered more as it pertained to the hosting of sports. This as most of the planned activities came off.
We in St Vincent and the Grenadines, cannot say the same, as 2021 was marred by cancellations. As such there was no national cricket competitions save and except the Vincy Premier League; Football saw no action, neither did Netball , Volleyball, Basketball, Karate, Taekwondo, Squash, to name a few.
On the other hand, Swimming, Cycling, Rugby, Athletics and Table Tennis were able to fulfill some of their programmes, while Tennis had a bit of dribs and drabs.
Unfortunately, the impact of St Vincent and the Grenadines being unable to host sporting events on the national scale was indeed hurtful to many of the promising sportsmen and women.
St Vincent and the Grenadines more than anyone else, was the hardest hit in 2021, as whilst the pandemic did not relent, we had a double whammy, that of the disruptions and displacements caused by the explosive eruptions of La Soufriere volcano.
Thus, for the better part of eighteen months, sports here has gone through the wars, suffered immensely and more critically, tinges of hopelessness is setting in.
Concerns are especially high among the school population, as they have not seen action since March of 2020.
Essentially, we have lost critical data on students' prowess in sports during that period.
Sadly too, the prolonged lay off has caused some casualties, with some youngsters turning to deviant ways; and some exiting themselves from their respective disciplines altogether.
When all is added up; the loss of human resources, the psycho- social effects and mere uncertainty have left the sporting population in a bad, rather dark place.
Therefore, can we enter 2022 with that mindset of waiting one out; wishing for the best to come our way whilst sitting idly banking on hope?
We all are wishing for the " better days are coming" prospects, and holding on to 'that too shall pass' notion.
Until such time, we have to get the wheels in motion and make the best of the worse situation that we have been viced in.
But as St Vincent and the Grenadines' sports stays put and on protracted pause, others the world over are doing their thing, having their competitions with spectators slowly returning to the various arenas.
We cannot hold strain for any longer, hence it is time for some real movement towards a return of sporting activities here in a wholesome way.
To do so, we can take a page or two from what others are doing, and get sports back on the field and on the courts again.
In saying so, we are not able to operate in bio- secure bubbles as is the norm with most international team sports, but we can put the necessary measures in place to mitigate against risks, institute action plans and strategic executions.
So, what are the next best options available to our sportsmen and women? Can we readily culture our sports people(active players and officials included) to act responsibly at all times, knowing that their behaviour can impact negatively on what is planned?
Are we so hungry for sports' return, that any vaccination mandate proposed will be readily accepted?
Or better still, are our national sporting associations so moved to have conversations with their constituents about vaccinations, with the intent of wooing them to comply?
Whatever is the route to be traversed, it is imperative that a start in the direction best suited to have sports activated in the shortest possible time frame be pursued.
When one looks around St Vincent and the Grenadines, there are some semblances of people accepting that the pandemic is real and are adjusting to suit. Additionally, there is that general belief that the coronavirus will be around for an extended period, so we have to learn to live with its presence.
Accepting those facts, it is time to move on and breathe oxygen in the sporting life of St Vincent and the Grenadines again.
But, as we all ponder our next move, we have survived 2021, and in the name of sports, 2022 must be better than the two previous years.
A most optimistic, prosperous and blessed 2022 to all.