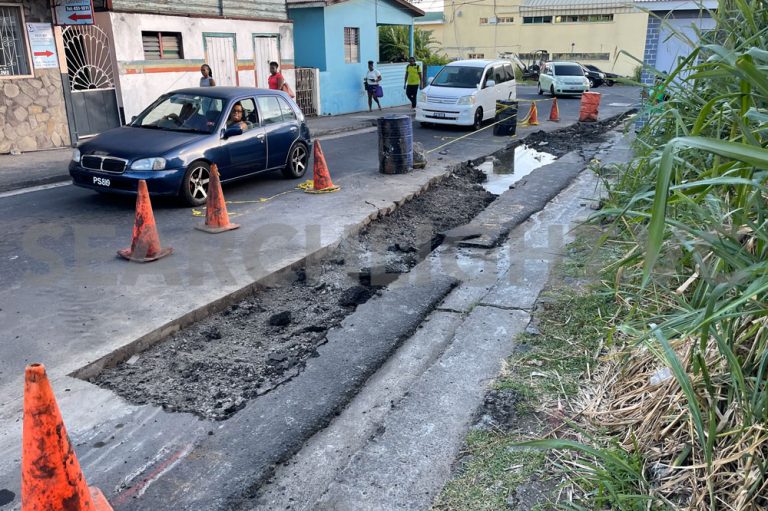 More road work underway at Bentick Square (+Video)
It may take more than three weeks to reconstruct the road at Bentick Square, which collapsed over the weekend amidst torrential showers.
This estimate was given by Calvin Llewellyn, civil engineer on the project, who said while the rain did not cause the collapse, it exposed the extent of deterioration of that section of the Mandela Highway, formerly known as the 'Road to Leeward'.
Llewellyn said the collapse of this stretch of road, frequented by commuters, may have been hastened by the increased number of heavy vehicles and container trailers traversing the area recently.
The civil engineer told SEARCHLIGHT there may also be an obstruction in a drain which runs underneath the crumbling road.
"The road collapsed because the drain that is under the road would have been compromised. It's an old drain, so what we are trying to do now, we are trying to dig it up, to see exactly where it is compromised; try to fix both sides of the drain and then we will repair the road."
He said when the drain was constructed, the weight of today's vehicles was not taken into consideration.
There has, in recent years been increased movement of trucks carrying aggregate, fully laden 40-foot containers and heavy equipment to and from the Leeward side of St Vincent.
On Wednesday morning, while standing at Bentick Square, SEARCHLIGHT observed two large trucks filled with building material and two container trailers passing the area in under five minutes.
Less than two months ago, the Roads, Buildings and General Services Authority (BRAGSA) was forced to close the same portion of the highway after a sinkhole was discovered.
That section of the road has since been fixed and is open to road users, but Llewellyn has dispelled speculation that the problem with the drain is linked to the sink hole discovered two months ago.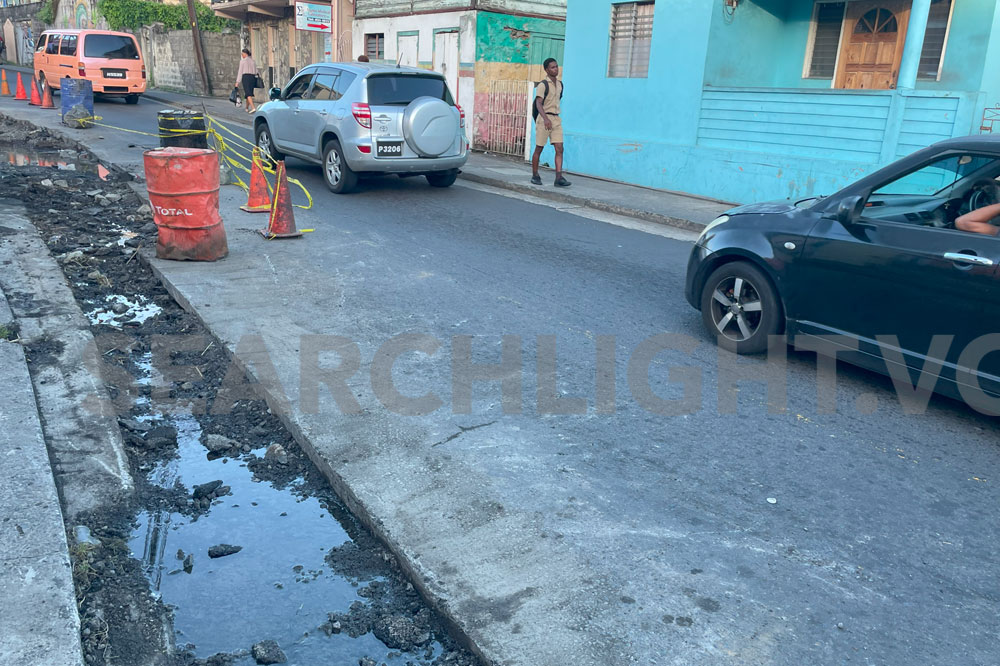 "This though (pointing to the recent fix) was not associated with over there (pointing to the drain being fixed).
"[These are] two separate drains, there's a drain on this side and a drain on the hospital side."
He however noted that if the drain is not dealt with, it can cause both lanes of the road, in and out of town to be damaged but, "we identified the problematic area, we already highlight it, we are going to break that down and check the drain to see if that is the only area that we need to repair and we'll go from there."
He said it should take a minimum of two to three weeks to complete the work.
"We can't really say much, until we take out the section of the drain and we see if that is the only section that is compromised…so maybe things go change by next week," said the civil engineer.